Eventually I manage to kind of "bat" Jenny away just long enough to check the time, 9:39 a.m., crap I've only slept three hours. She walks back and forth across the pillow and darts when I pet her, almost coquettish "oh no, monsieur, really you mustn't! Hee! Hee! Hee!"
Back and forth, back and forth.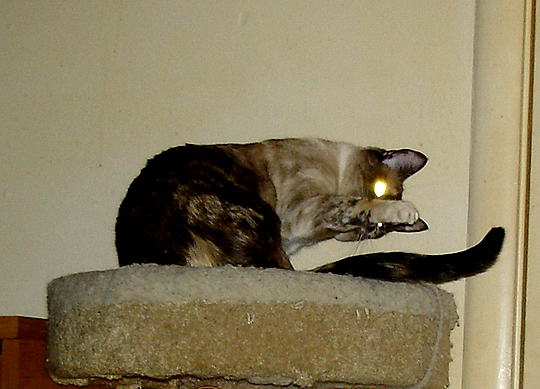 It dawns on me she's digging around my night stand for something specific. She picks up an eyeglass cleaner in its wrapper and spits it on the floor, bats a small bottle of aspirin aside and gnaws at a pen, her eyes big as saucers and purring up a storm, with the determination of a French cop from XIX century literature, coquetry out the window now.
Jenny Javert, Javert-Jenny, whatever, I'm doomed by strawberry-cream jellybeans…
I get it, finally, and palm the toy laser before she picks it up to spit in my lap. She hasn't seen me do it but she 'senses' I got something, so she walks over still purring loudly, extends her neck to smell my face, maybe give me a morning kitty kiss. She half closes her blue peepers, then vurps a small cloud of fishy breath up my nose.
But there's worse now around here… Speaking of literature, of a Russian flavor this time. Titanus Grumpicus being treated for halitosis, his 'affections' can be fetid, especially after he's nommed his canned food: I mentioned before he slobbers a bit. Well, that, combined with dragon breath and the tiny bits of Friskies mixed in spit he dribbles shape my dreaming into an episode of "Alien" where the freaking monster corners me in a dark service corridor and prepares to spear my forehead.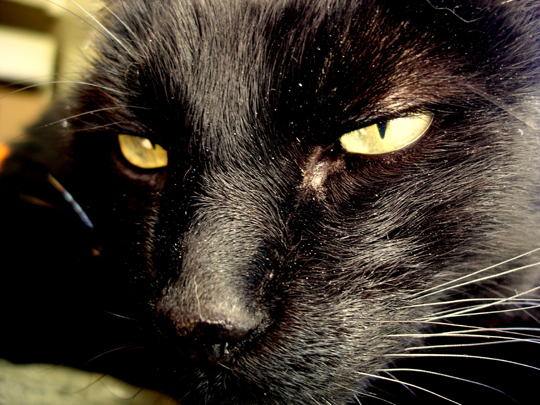 And do be careful trying to shoo him away, no matter how gently: he'll swipe at your hand with surprising speed with a slavic-accented yowl you can interpret as "I crush you!" Old bastard.
Ah but Tito, the gentleman, rolls back and forth on the kitchen floor cooing, trying to prod the old coot into a game of tag, drawing him away from my eyes still puffy from sleep, cat vurps, farts and spittle, bless him. Of course, eventually, he'll chase Jenny around and they'll race across the bed, launching off of us like gut-punches or a brass-knuckled haymakers to the face. To the face…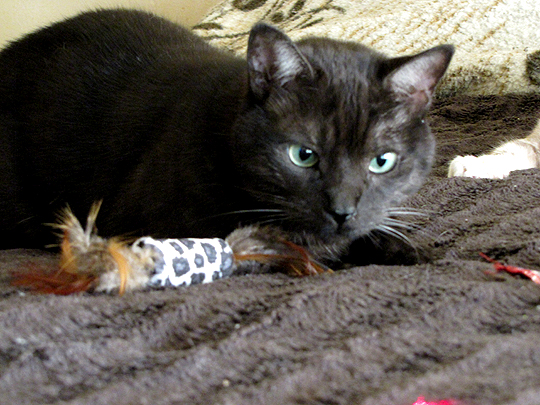 So fine. I'm up. And we know Jenny and Tito have their theme music, but now we have to think of something for comrade Titanescu, something purple maybe? Like our bruises..?!?
"Start wearing purple" by Gogol Bordello…