Today is Mother's Day, and we think that mothers should certainly be honored. However, there are a LOT of mums out there who haven't given birth or adopted, or raised human children. These women who nurture animals or the children of others deserve just as much honor on this day. With that in mind, we would like to honor a friend of this blog.
Her username is flumptytail and she's mum to a human and LOTS of kitties. She rescues ferals, and has them spayed and neutered. She also takes them for regular checkups, teeth cleaning and various things. Once healthy, they have the run of her home, indoors and out. They are free to come and go as they wish. She has made many of our brothers and sisters very happy kitties.
How many kitties call her mum? Well, according to flumpty:
I have 32, 34 if you count the 2 that belong to someone else. I had said 28 before , but that was just a quickie list and I had left off some that I hardly ever see. They just come in once a day for a few minutes to eat and disappear again. Although by now there's only one who never stays in all night.
Here are some of her kitties.
This first picture, according to flumpty:
I keep a big cage in the dining room for when I have to keep a cat in it overnight if they're getting neutered or spayed or their teeth cleaned, etc. in the morning. I leave the door open other times and the cats like to sleep in in. Here is a picture of a pile of kittehs.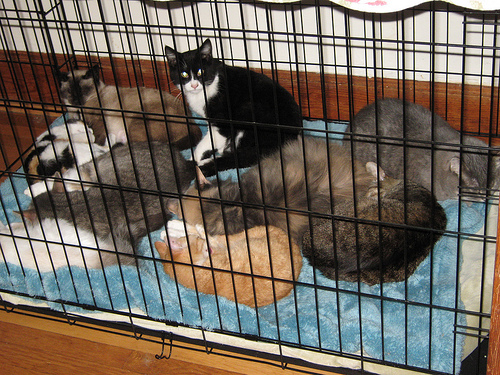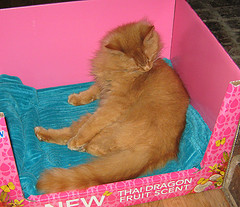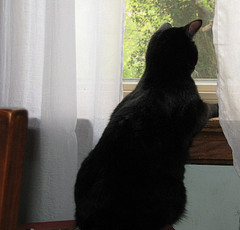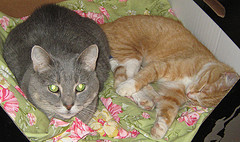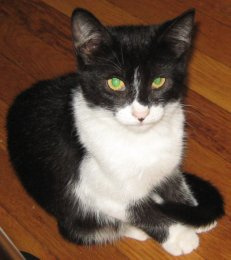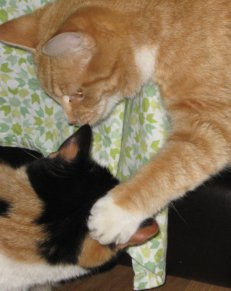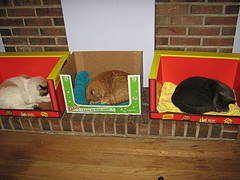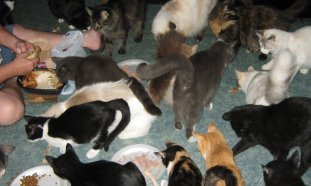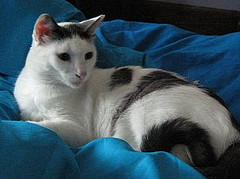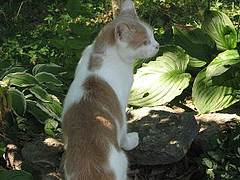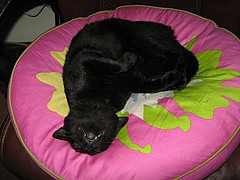 ……………………………………………………………………………..
Not to worry. We love our mum too. We gave her head bonks and left our toys in her shoes for her to find.