Recently, I wrote a post about aging gracefully (or not). Today is a bit of show and tell, with lots of photos to share what Dad and I saw when we ventured in the great, hot and flat outdoors… Follow us beyond the fold, because as Pinhead says, "I have such sights to show you…"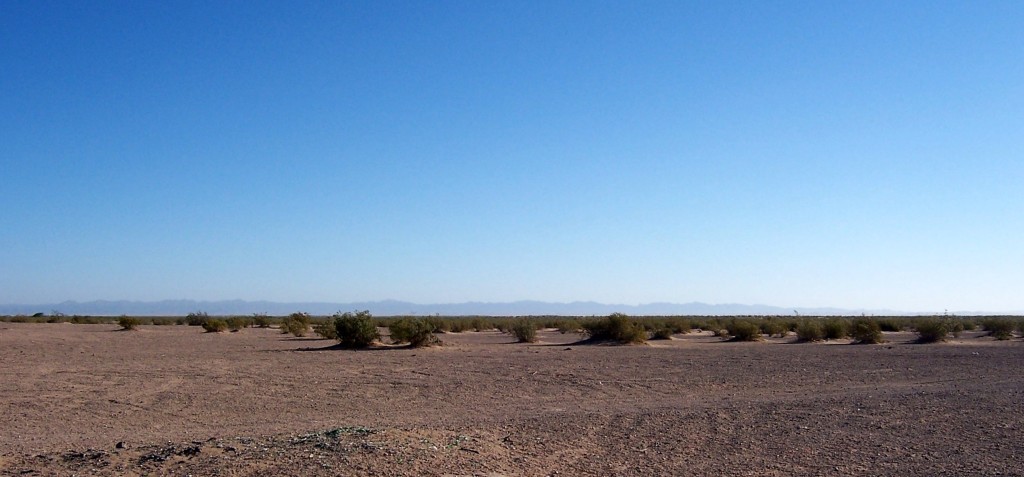 My home area of Imperial County is located in the southeast part of California along the Mexican border. Most of the county is below sea level. In the summer, the temperatures are high and rainfall is minimal. Most of you non desert folk have read (or heard) about how the desert is hot in the daytime and cold at night. That's not true where I'm from. The summer lows might drop to the 90s (32c) and many times won't drop below 100 (37c). The summer highs exceed 110 (43c) on a regular basis and in August and September, the humidity can be stifling. The economy is based on agriculture and many winter veggies are grown there. The summer is too hot for most crops, so the primary planting season starts in September and ends in April/May.
I went home last month and the highs were already reaching 100 (37c). Dad and I went for our desert ride very early in the morning as a result. We began our journey just east of the farmland near the small town of Holtville.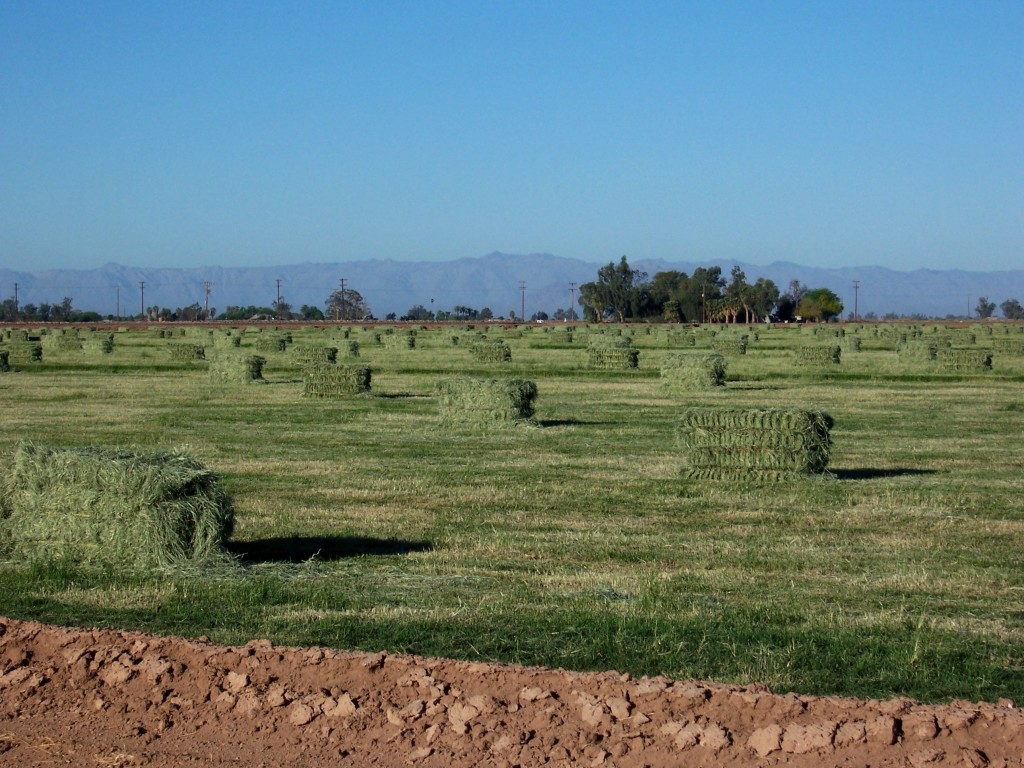 In our little corner of the world, the Creosote bush reigns supreme. Creosote, while not very pretty, is a fascinating plant. From the link above…
Vegetative reproduction: Creosote bush achieves its status as one of the most stable members of desert communities by cloning. When drought is extreme, old branches and roots of creosote bush die back. When rains return, branches are replaced by sprouts originating near the outside of the root crown. Creosote bush clones gradually expand to form rings many meters in diameter. Creosote bush may occasionally sprout from its root crown after disturbance.
Because of this form of reproduction, it's very long lived. Again, from the above link…
Creosote bush is known to attain ages of several thousand years; some creosote bush clones may be the earth's oldest living organisms. The age of the largest clone in Johnson Valley, California, is estimated at 9,400 years. The average estimated longevity of creosote bush may be about 900 years.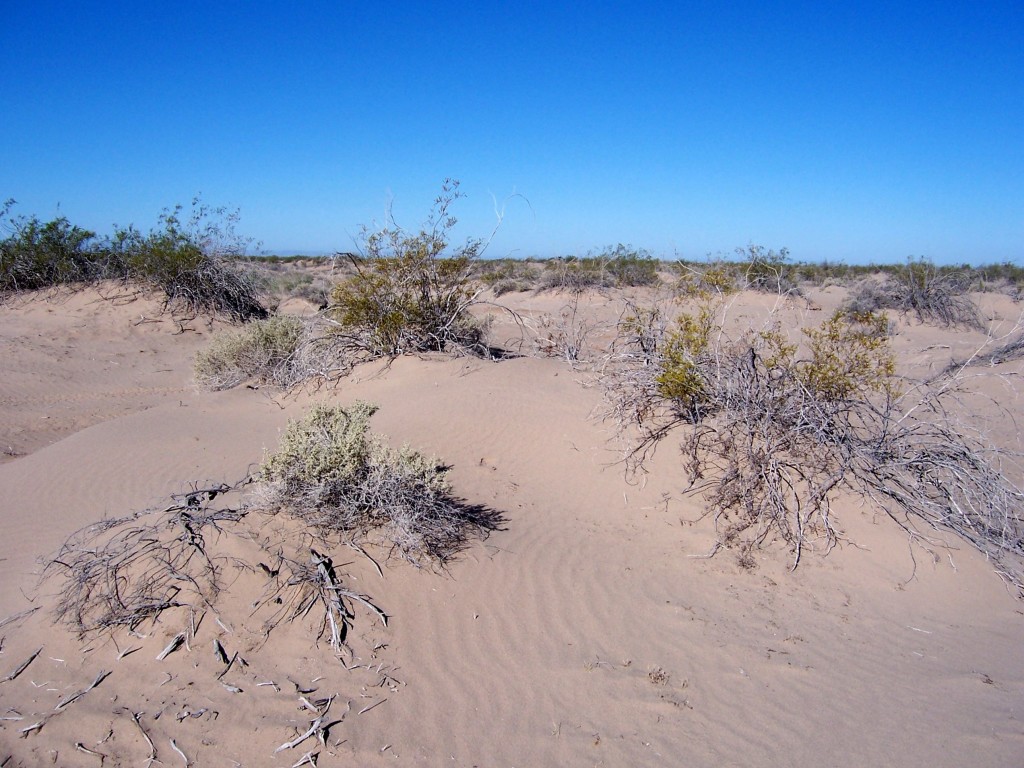 Following well worn trails, Dad wanted to show me something that he only discovered in the last couple of years.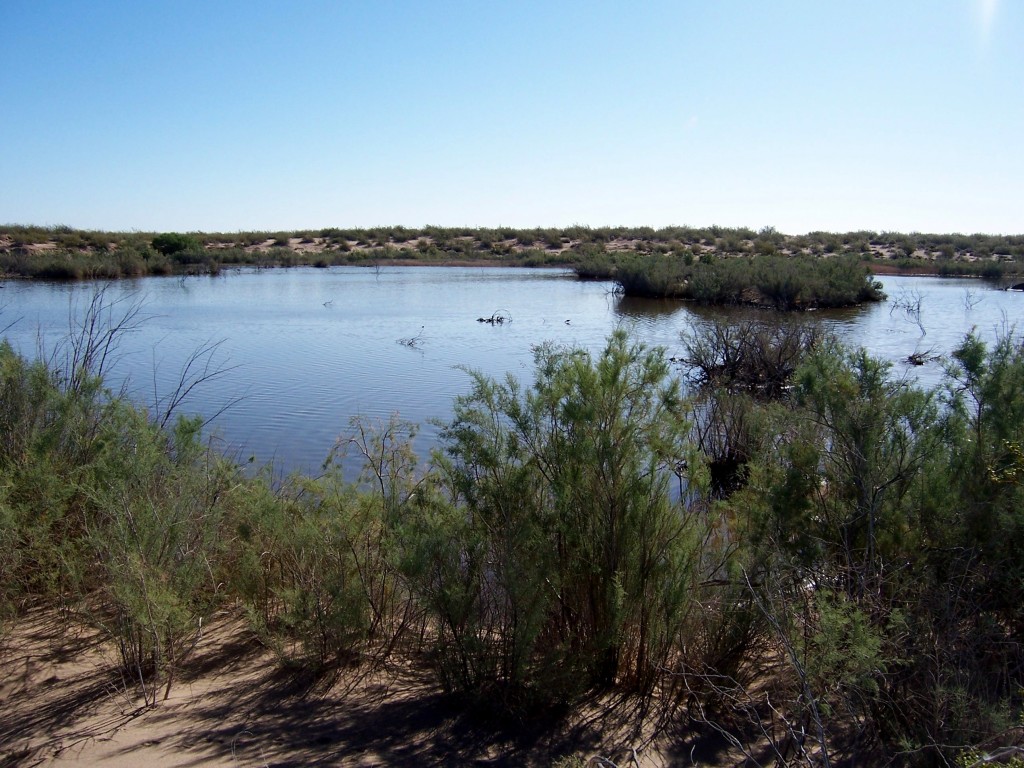 I'm not a geologist and I couldn't find anything online that mentioned the ponds. As far as we know, they didn't exist prior to the 2010 Earthquake. Artesian waters are more common than realized and the nearby town of Holtville has more than one. A shifting of the earth has been known to cause the water to flow to the surface.
Regardless of how they got there, they were pleasant to see. The next time I visit, they may be gone.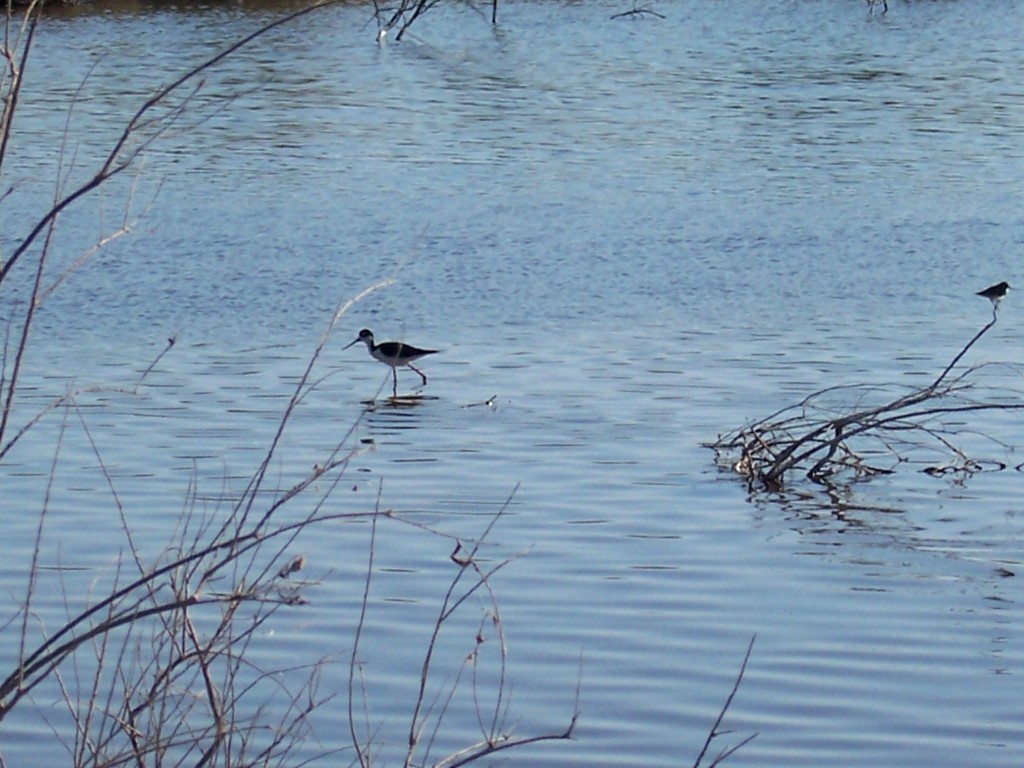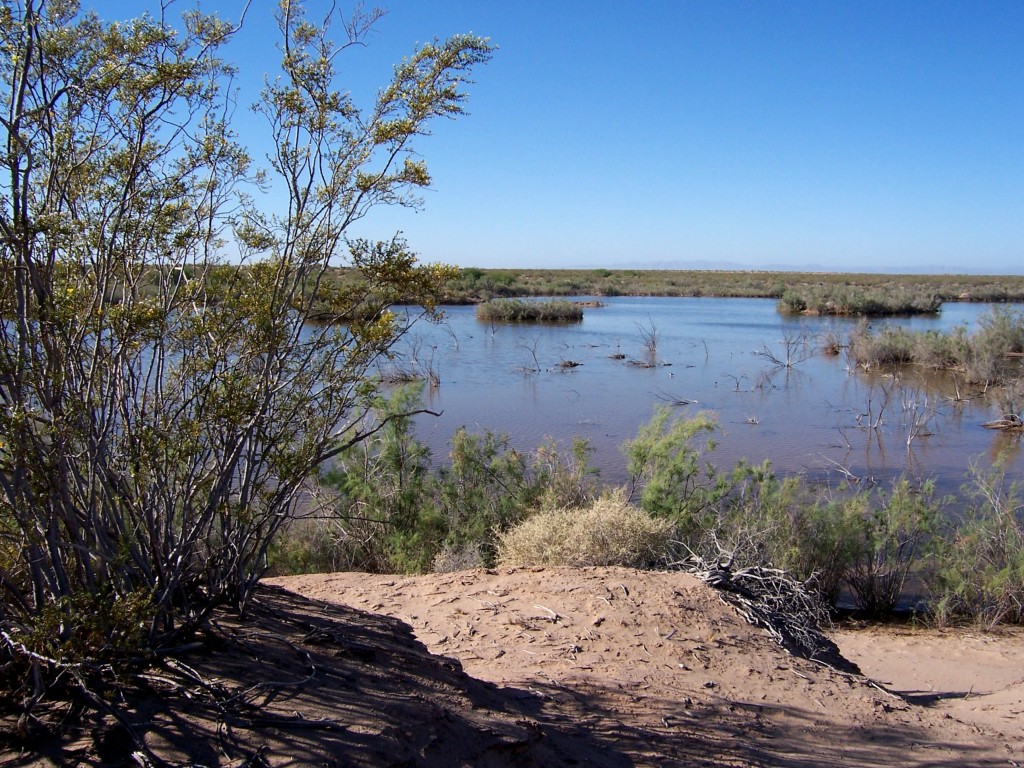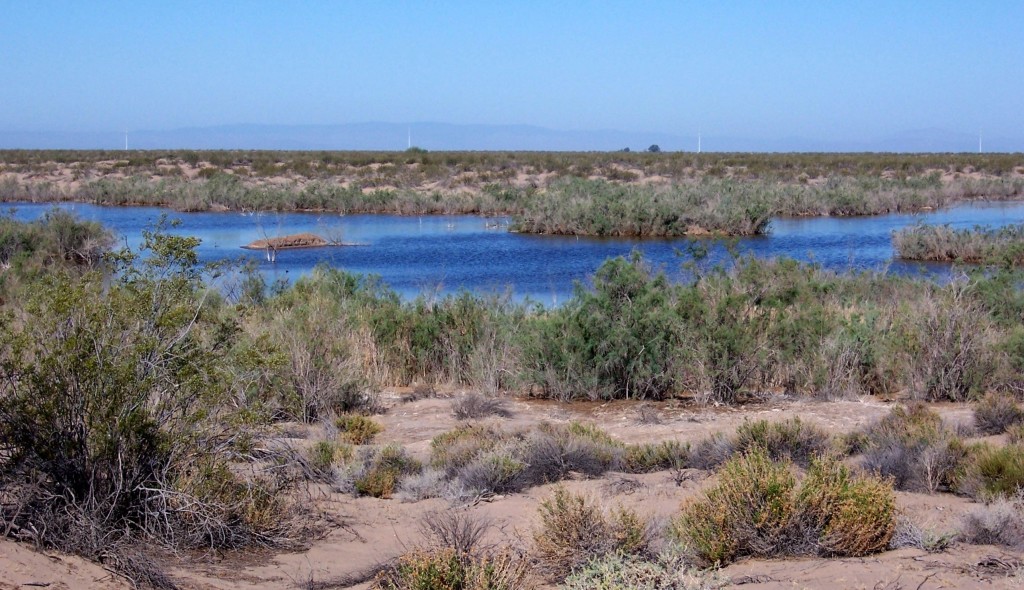 The Creosote bush is home to many critters. Kangaroo rats and desert kit foxes make their home in the roots. I saw plenty of wildlife while I was there, but they all moved way to fast to get a photo. I saw black-tailed jackrabbits, chipmunks, and some VERY fast lizards. While I didn't get any pics of the critters, I did get pics of the evidence they left behind.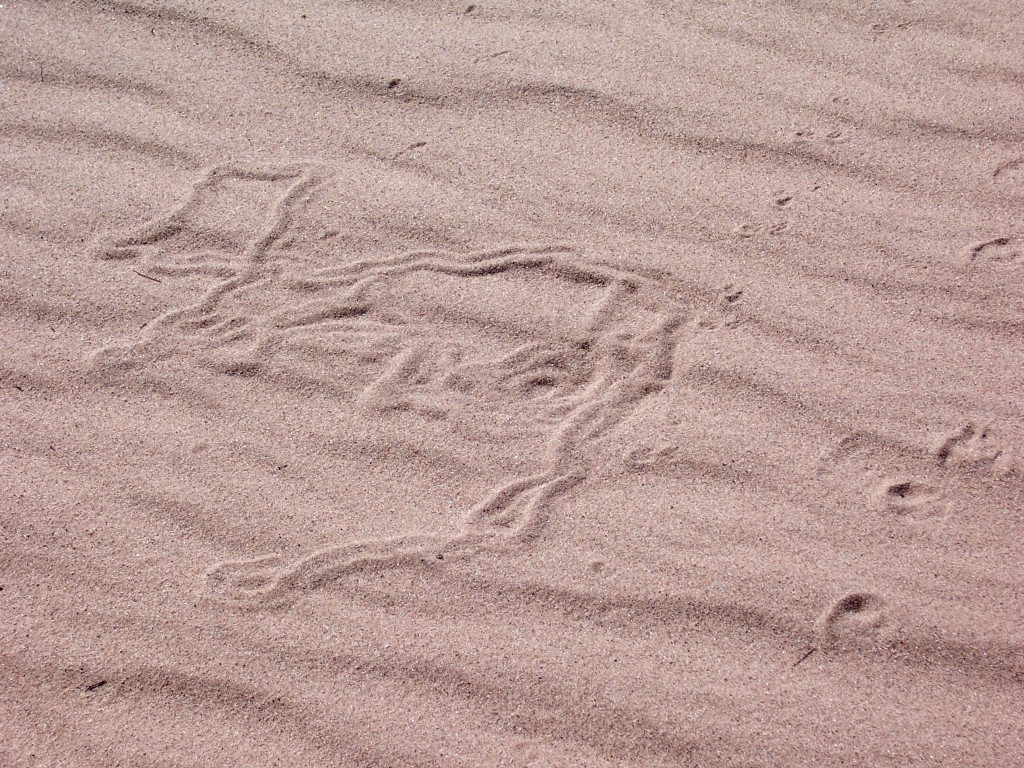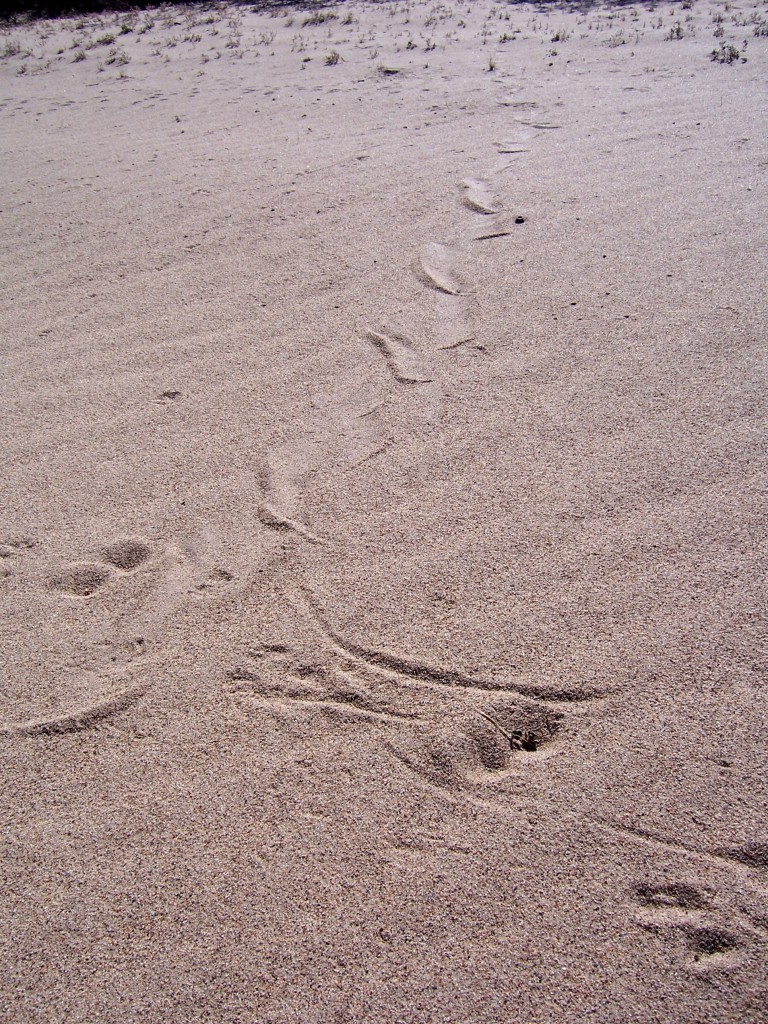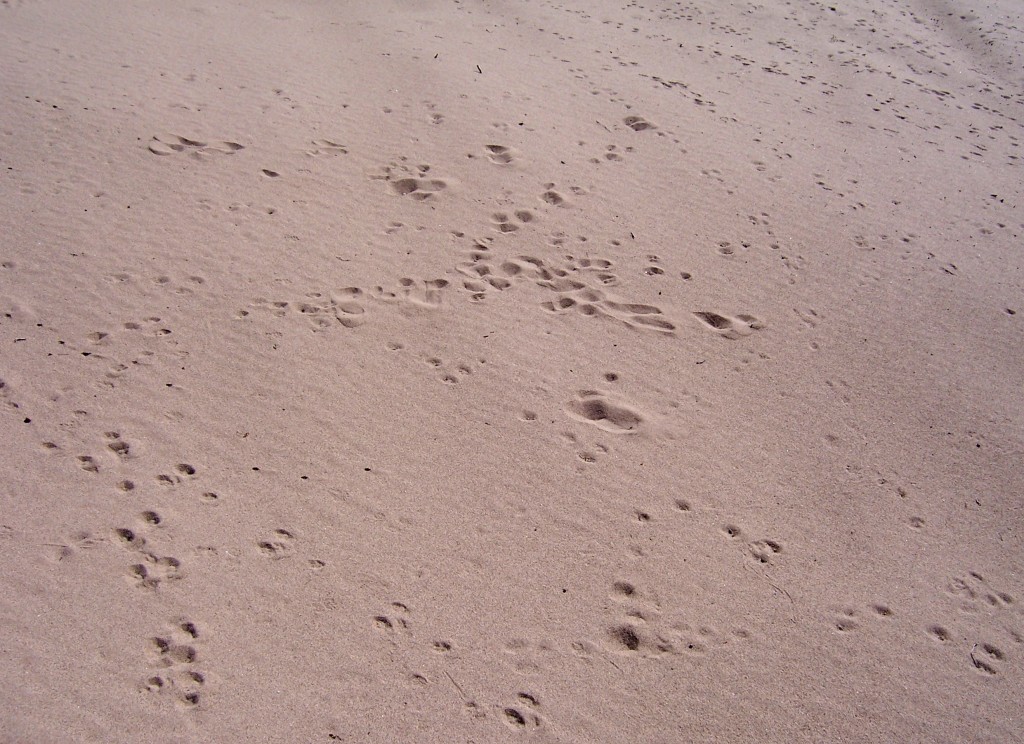 While I was taking the above photos, I spied this little fuzzy critter. She's called a velvet ant, but she's not an ant. She's a flightless wasp and she packs a mean sting. Her white hairs make her look like the seed of a Creosote bush.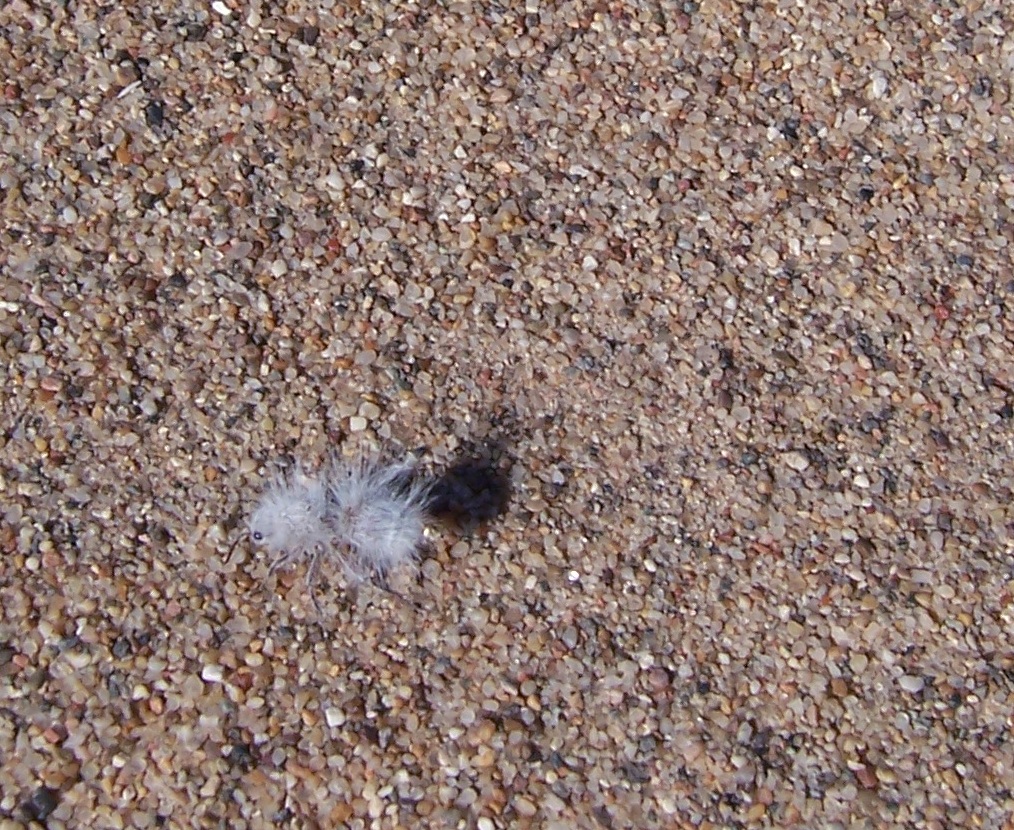 Here is the view from the hill where I took the above photos. It's called Deer Peak. It's not high, but given how flat the rest of the area is, it's a landmark. Weenie Bake Hill is another landmark to the south.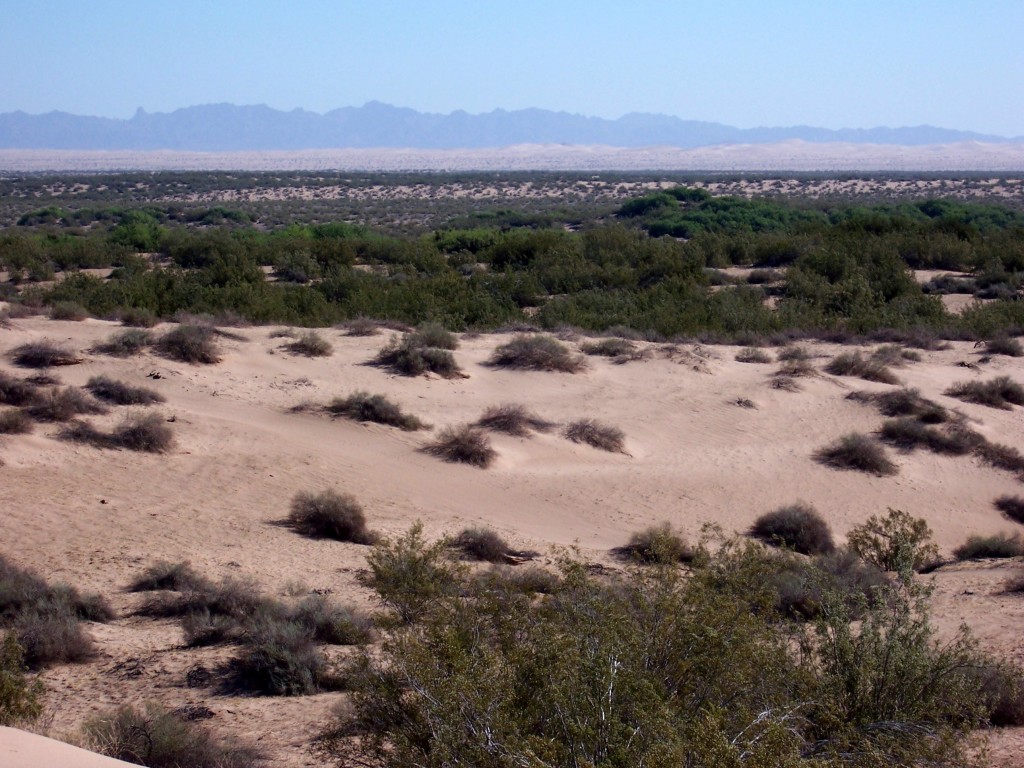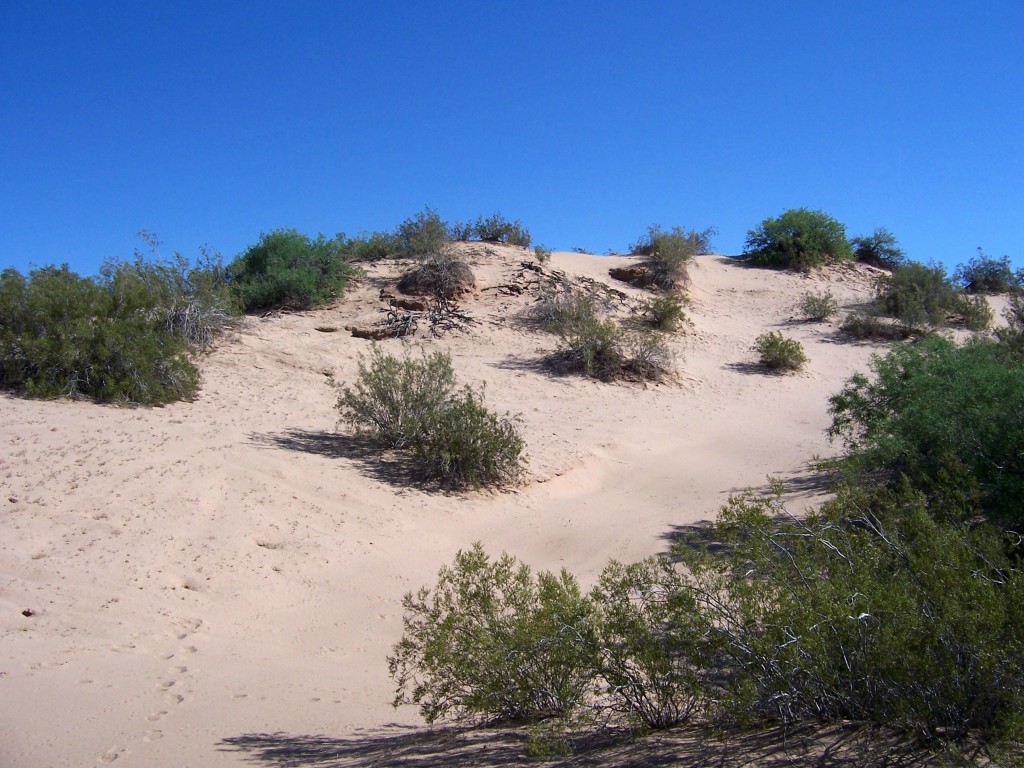 We continued east until we came upon the old Coachella canal. It was replaced more than 20 years ago. We dropped down to the bottom and went south for a bit.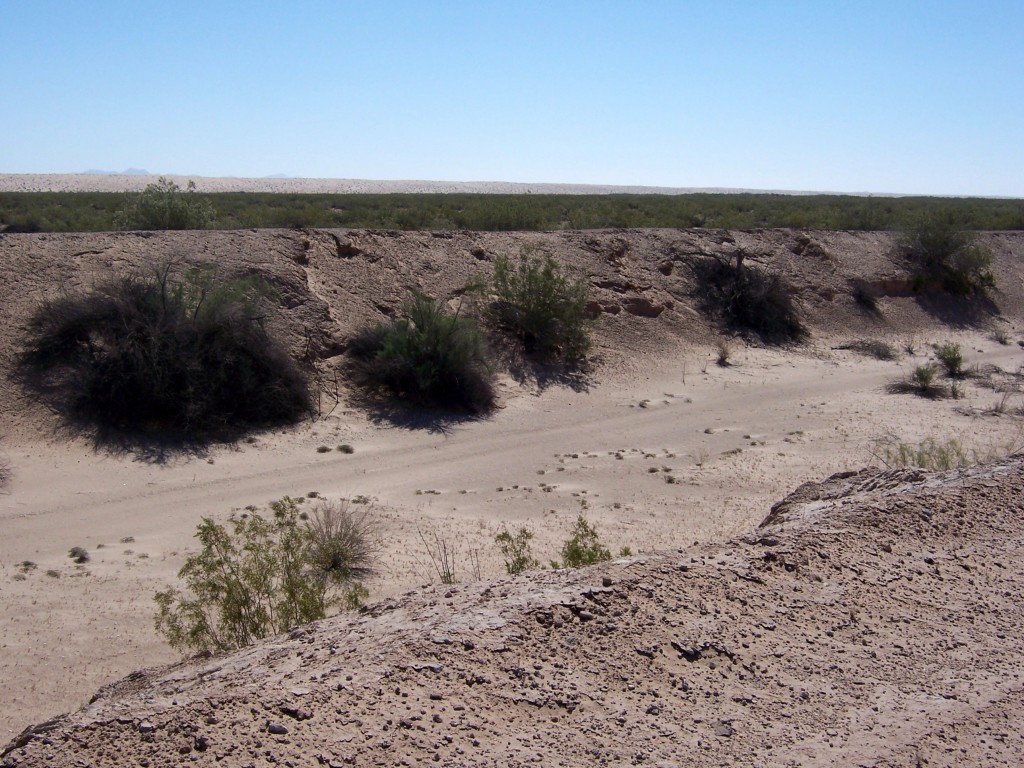 We were chugging along at about 20 mph (32 kph) when all of a sudden dad made a sudden turn and stop. He might be 84, but there's nothing wrong with his eyesight. He managed to avoid running over an extremely rare plant as they are very small and blend in with the sand. In all of his years in the Valley, he had only seen them once before. They are one of the most unusual wildflowers I have ever seen. They are called Sand Food. The visible portion is only the flower. The plant is underground. The link has pictures of the underground portion of the plant which is just as strange as its flower. It derived its name from its use as food by the Native Americans.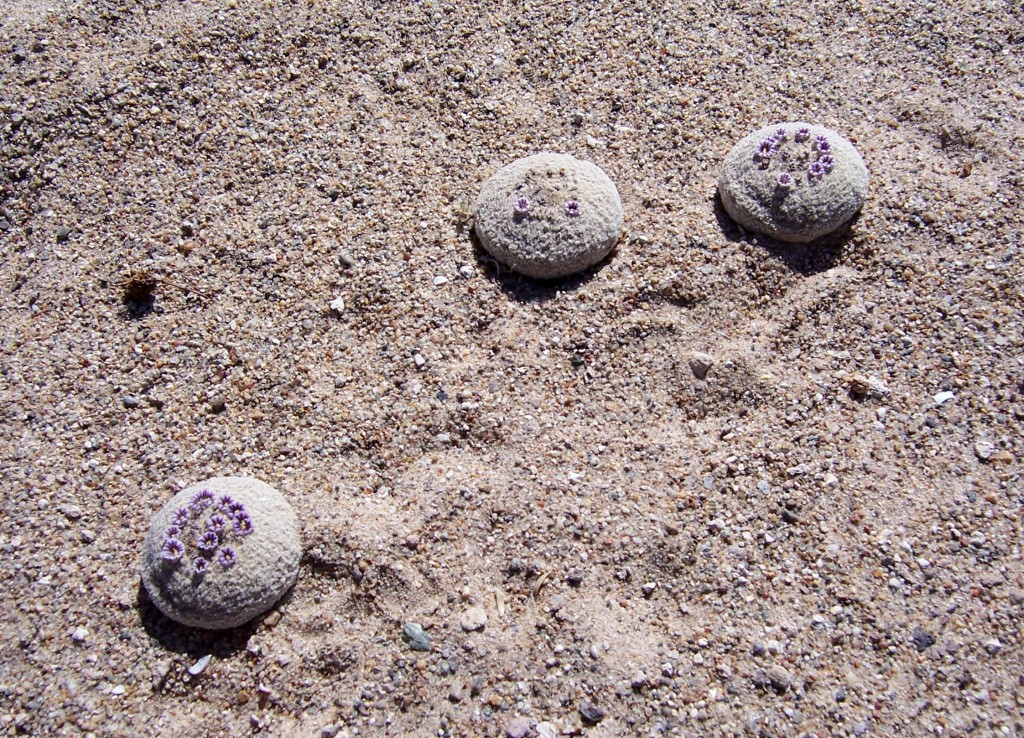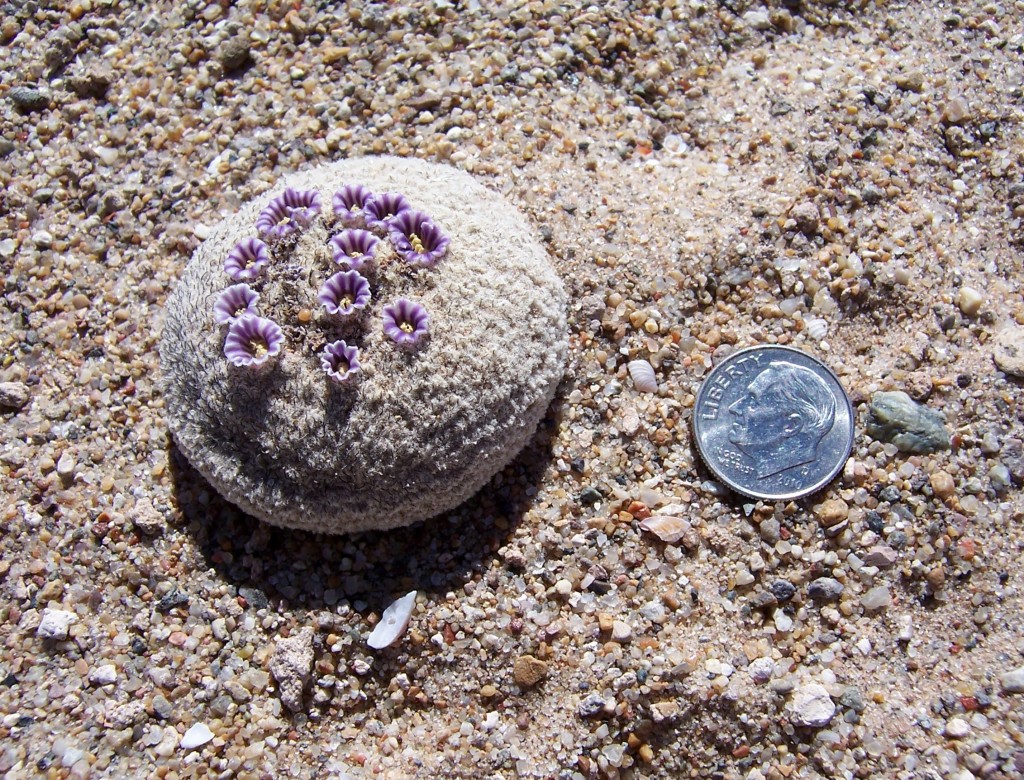 Shortly after seeing those magnificent little flowers, we had lunch and headed back to the truck. The rest of the journey was uneventful as it was getting pretty warm and even the lizards had gone into hiding.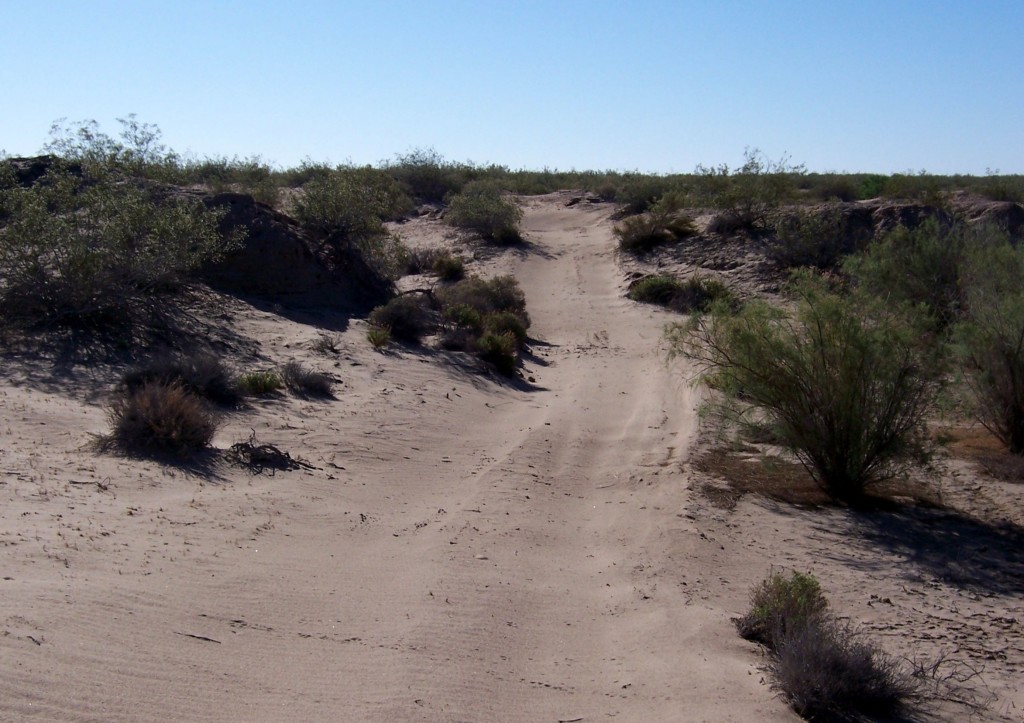 There were many forks in that trail and I couldn't help but wonder about where they lead. I spent my life travelling with dad and wondering where another road went. Sometimes we found out and other times we didn't. I still have that bug and I've infected Lastech. Now we go out riding and wondering where the roads go. We make a point of finding out when we can and going back later if necessary.
Most people are familiar with Robert Frost's "The Road Not Taken" and the famous last stanza about taking the road less traveled by. The first stanza is the one that speaks for me.
TWO roads diverged in a yellow wood,
And sorry I could not travel both
And be one traveler, long I stood
And looked down one as far as I could
To where it bent in the undergrowth;