Who are we?
Let's begin with Tito, a smoky-gray domestic short hair without a mean bone in his body. Both he and his brother from another mother, Kitsune, are about a year and a half old as of this writing.
Kitsune, or Kitsy for short, introduced Tito to Parkour, a series of gravity defying leaps and bounds over and against walls, furniture or the unfortunate biped. I should add "naked streaker food thief" to Kitsy's bio (he's a Sphynx, so hairless and somewhat lewd). Runs around a lot…
Rudha-an, the other human in the realm, worked as a bookseller for 20 years, has a green thumb, two left feet and a handy love of tools and home repairs (which is cool, because I don't). She hasn't met a dust bunny she didn't like and her favorite writers include Shirley Jackson, Ray Bradbury, Richard Morris, Dan Simmons, Richard Feynman and Stephen Baxter.
As for me, I am a Jack-of-some-trades (guess we call ourselves ronin nowadays) lured westward from Europe over 20 years ago, who worked his way to a corner office, eventually getting laid off) with a marked preference for four-legged creatures, whiskey and wide open spaces, who hasn't met a dust bunny he couldn't live with. My list of favorite writers include Gore Vidal, Jean-Pierre Andrevon, William Styron and H.P. Lovecraft.
Now, why jellybeansofdoom?
Those cutesy, not particularly sanitary pads cats walk on?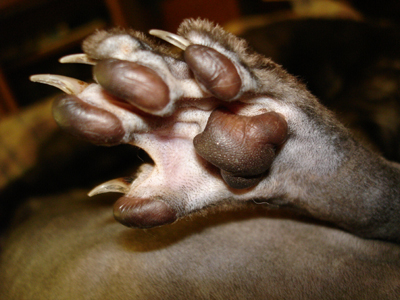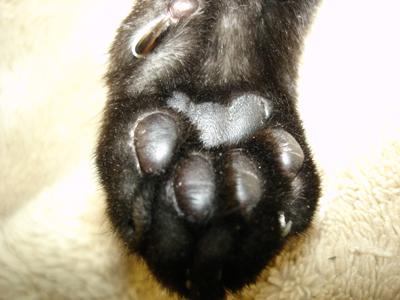 Why, Wolverine's got nothing on them. As a wee lad, I once witnessed a red tabby put a neighbor in the hospital as the neighbor tried to strangle said kitteh with a snare. Bad move. The cat appeared to have a keen understanding of the human circulatory system and the tools to, shall I say "excavate" his would be assassin's forearms.
The man bled profusely and "Red" lived to mark his territory for, well who knows how long…
Because cats tend to live and die like outlaws. One day, Fluffy jumps the fence never to be seen again and his or her humans never know what happened. A car? A dog? Some nasty neighbor..?
Unless they dwell in cities and remain indoors for the rest of their life and seem to evolve in front of us. Like the Sphynx breed: no hair nor whiskers, all ears and eyes gauging you. But this is for another post. Jellybeansofdoom, [JBoD], aims to welcome all of us who bear witness to the lives of all these animals whom we share our life with, not solely of the feline persuasion.
These times we live in are rife with challenges and hardships, leading many to find out who and what their true friends are, and as it happens, truest friends wear fur because it actually grows on them. They are kin.
So. To you and them: welcome.