We're not doing anything exciting for Christmas. We picked up a leg of lamb and some fancy taters. With luck, Miss Jenny won't be able to steal one and bring it to bed like the last time. We might go off to the park or the beach for a good walk though. 🙂
I would like to apologize for not posting lately. I've been doing some major maintenance on the blog (behind the scenes). I should have it all tidied up soon.
It has been raining and raining here. I don't mind. As you can see here, it makes our hills a very pretty shade of green.
Here are the beasties.

Here are our two "angel" kitties.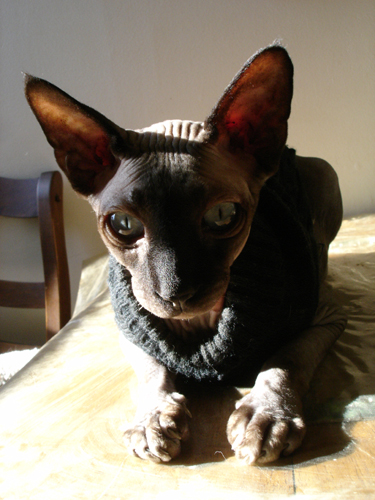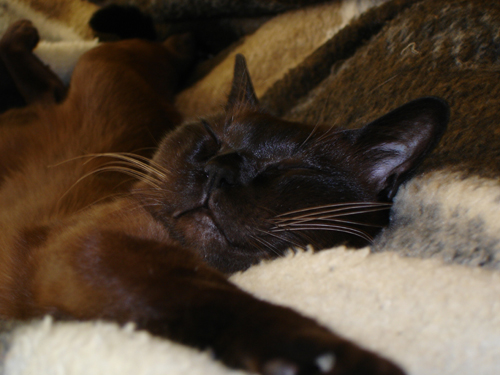 And now for the recipe. I love pumpkin bread, but most times I find it dry and mealy. This recipe is NOT dry. It's moist and wonderful. My mom and dad have made it for years.
Mom and Dad's Pumpkin Bread
5 cups pumpkin (1 large and 1 small can)
2 cups white sugar
2 cups brown sugar
1 cup oil
1 tsp salt
1 tsp cloves
2 tsp cinnamon
4 tsp baking soda
1 tsp vanilla
1 cup nuts
5 cups flour
Mix all the ingredients well.  Makes 2 large bread loaves, or up to ten smaller loaves.  Bake at 350 for 1 hr. and 5 minutes.  May take longer.  Bread is done when a toothpick is inserted and comes out clean.
We always greased the pans and sprinkled them with sugar (rather than flour).  We also sprinkled a bit of sugar on top as it made the top crunchy.
Obviously, this is NOT diet food. 🙂
This is why we do NOT have a Christmas tree in the apartment.