I've often (and unfairly) complained about the way cats get named in shelters. Not that my method of naming them after dictators is much better, Kitsune being the exception.
Originally, Tito had been named Capri, and Soza (short for Somoza), our Burmese we lost to lymphoma, had been Kobe.
Truth is, it'd probably be best to wait until you know your cat before you settle on a name.
Going by physical characteristics can work, I guess, but then in Kitsy's case, that might have meant calling him Sydney: as he lays down in the padded basket we have atop the computer tower, the only visible part of him are the huge flappers he has for ears: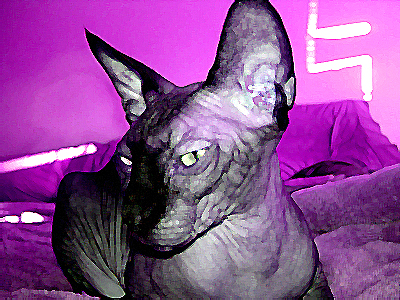 … And from the side, they really look like the Sydney opera house. But in fact, he has come up with his own name.
See, he yammers.
He flaps his jaws.
The only time he ever shuts up is when he's asleep, otherwise we have conversations all day, every day. He announces himself as he leaves the room, when he returns, when he goes to the litter box, sometimes as he uses it, and it's when he trots away that he makes a modulated "HMRAOW" sound, followed by what sounds like a question.
He is therefore known as… Mazuzu Whang.
He and Tito coo at each other, but when Tito addresses us it is with a high pitched "MEE", usually ending with a yawn. My more limited conversations with Tito usually go like this:
-"MEE! [yawn]
– I'm sorry, am I boring you?"
Maybe we should have called him Sluggo…