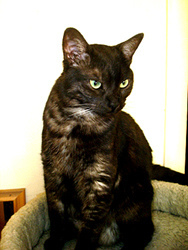 Mee! Introducing your new cat to your home
We kitties don't like change. Change is very scary to us.
When you bring home your new cat, put them in a quiet room with food, water, litterbox, toys and scratching post. This room should have a door that closes. The safe room gives your cat time to adjust to the change of location and makes them feel much more safe. Make sure to spend a lot of time with them. It may take a couple of days before they come out of hiding.
This is especially important if you have another cat in the house. If you already have a cat, this change is as scary for them as for the new kitty. With the new cat in the safe room, the original kitty can sniff at the door. You may see and hear a lot of hissing and whatnot. It's normal. Follow the guidelines I discuss below and it should be ok. If it doesn't work the first time, just start over again.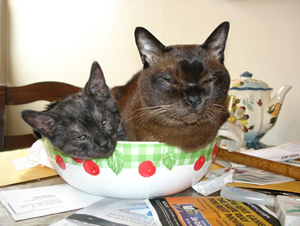 When mom and dad brought me home, they put me in a safe room. It's a good thing as I'm a very nervous kitty. I have a few phobias as a result. Anyhow, The Boober, who already lived there wasn't happy and he hissed at me at lot. It was good to have a door in between us. It took about 3 days before he quit hissing and I wasn't as scared. After that, mom took me out to the other room in the carrier to spend a bit more time with everyone. The Boober hissed a bit more. After two days of that, he quit hissing and was friendly. Mom and dad turned me loose in the apartment after that and The Boober and I became the bestest friends. I miss him.
After The Boober passed away, my folks brought Kitsy home. They knew I was lonesome without a brother. Like me, he had a safe room. He only spent one night there. I wasn't upset to have a new cat in the apartment and Kitsy wasn't scared. I was a bit wary, but I wasn't scared or angry. Within a day, we were good friends.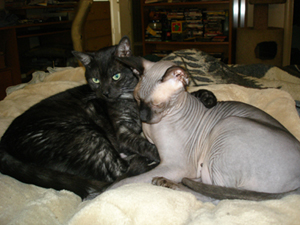 In conclusion, my biggest advice is to have patience. Patience will mean having a much better adjusted cat (or cats). Otherwise, sudden changes can lead to behavior problems and that's no fun at all.