Okay, so it can go either way with Kitsune a.k.a Mazuzu Whang: tuna will either make him sleepy, or turn him into a crack monster.
After feeding him maybe a spoonful in hopes of calming him down and going back to sleep, nature called and I had to get up again.
Outside the bathroom, something sat in a crouch, waiting for poor, unsuspecting me in the doorway: the hunched back, the basket ball sized eyes, the ears, big enough to outfit the Mayflower.
Right: Mazuzu Whang, the Benjamin Button of catdom.
The unsettling part? He was making this weird clacking sound he usually makes when staring at birds, like the Predator.
Klak-klak-klak-klak!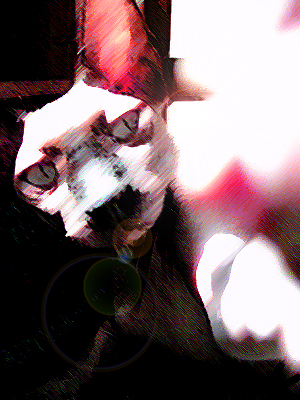 After maybe half a minute, he trotted away back to bed. Neither rhyme nor reason.
You gotta respect something about a tenth your size, standing in your way and looking up at you as though it could just as soon kill you. Christ, even Schwarzenegger might have to check his drawers…