The evil of Farther Christmas has been unleashed upon the world once more. Can a small group of reindeer herders catch him in time to sell it to the Americans?
"Rare exports: a Christmas tale" – (2010, Finland, 84 minutes – rated R)
Like all industries, Christmas is made up of many businesses, the more unsavory and dangerous ones, the more "interesting" the folklore.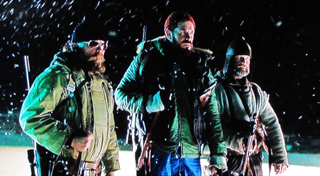 While NORAD pretends to track Santa's sleigh every year, the real hunting takes place on the frozen ground of Northern Finland, Lapland to be exact. There, rough men practice skills honed over generations, working in groups of three: the tracker, the marker and the sniper. Their quarry is the Wild Father Christmas, an elusive and savage predator pouncing on reindeer and naughty children alike. The following video is NSFW:
In "Rare exports: a Christmas tale", Mount Kurvatunturi, the site where Father Christmas was entombed is being "excavated" with explosives  by an American company, Unwittingly, they unleash the ancient evil. It is now up to local reindeer herders and father and son Rauno and Pietari Kontio (Jorma and Onni Tommila) to capture the beast and sell it to the Americans.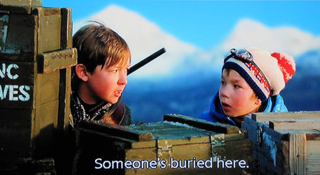 based on  the 2003 short "Rare Exports, Inc." posted above, "Rare Exports: a Christmas tale" is another highly enjoyable example of dry, dead-pan Nordic humor, in the vein of "Trollhunter" or "the sound of noise". Monty Python lives…  And…
… Father Christmas is out there, ravenous, nasty and lethal. Until the tame final product, result of hard work and hours of beatings, is fit for shipment around the world. "Rare exports: a Christmas tale" is where it begins…
"Rare Exports: a Christmas tale" gets five jellybeans. They should show this in schools.