All four of our kittoons here have needed a bit of socializing right from the start. It might seem that Maz Whang didn't, but his universe was turned upside down when we adopted him, as he'd grown up a full year with Sphynx siblings, and a couple other cats and dog.
To be wrenched from his home was traumatic, and the poor beastie gacked and crapped all over himself in the cat carrier on the way to his new digs.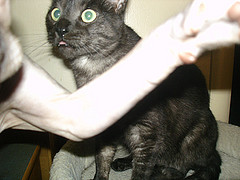 We had to stop, clean him up and comfort him as best we could before driving on.
Sphynxes are social, but on their own terms, which aren't always easy to decipher. They really are driven by the two related needs of warmth and sustenance, with much playtime in between.
Just like you test the warmth of a baby bottle prior to feeding, you have to ensure your hands are warm enough before petting Maz or he'll recoil and dart away in shock and horror. I call this "ghosting" because that's what his reaction makes me think of. We've said he's been very good for Tito (and vice versa), drawing Tito out of his 'goth' period following Boober's passing.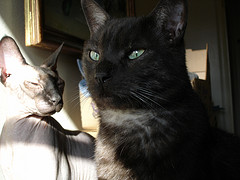 Finally, Tito was able to chase and play to his heart's content with the streaker, losing excess weight in the process, and bonding with, well, an alien. Even Miss Jenny finds Mazuzu irresistible: both want to nom on Maz, who'll leap straight up a couple feet in the air and maybe growl if a tooth racks his spine. Mmmmh. Baby back ribs…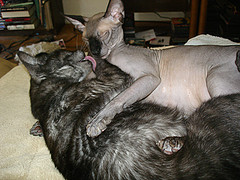 Given Tito and Jenny's "affection" for shoes, I suspect they enjoy Maz' gym locker smell when it's time to give him a bath. That's usually a signal for us to drag him into the tub, but then they love the new cat smell just as much and are all over him again.
Affection? They have it. Tito tricks us into feeding him and leaves the food for Maz, knowing the alien always needs more. Smart Tito…
Maz grooms both Tito and Jenny when he beds down with either in the basket atop the computer desk, later gacking hairballs and meowing his discontent, but what can you do..? Jenny also grooms both, focusing on Maz' ears in particular, an unexpected boon for us since Maz and Q-tips don't mix well.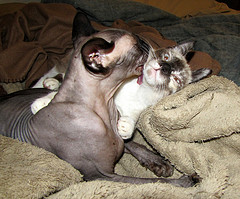 One of the biggest changes is something Maz started and Jenny continues: helping Tito find his voice. Because he never was very vocal at all, this watchful little thing which grew into a big cat. He now trills and coos and meows, although always in the higher pitch of a kitten. And it may be early yet to tell, but I think Jenny's going to be the same. They both will always sound like kittens.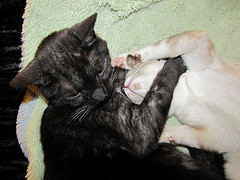 This may sound like a sign of arrested development but I prefer to think of it as a display of happiness, along with Tito's joy at being picked up and carried from room to room for a few minutes, purring and discovering a new perspective on his world with wide eyes, rubbing his chin on our cheek as we do so. And Jenny's happiness at going to sleep hugging my hand to her head, like a pillow.
Our two little feral rescues no longer have to survive on mean streets, they only have to romp and warm each other and their "cousin" from outer space.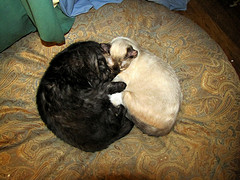 Love is in the air and scarcely displaced by Maz and Jenny's farts. It's all good.