Maz Whang's been under the weather these past few days, something which wasn't readily apparent at first.
Update by Rudha-an:  Maz is better this evening.  He's eating more and has gone exploring in Jenny's room instead of heading straight back to bed.  He still has a way to go before he's fully recovered, but he's definitely on the road.  🙂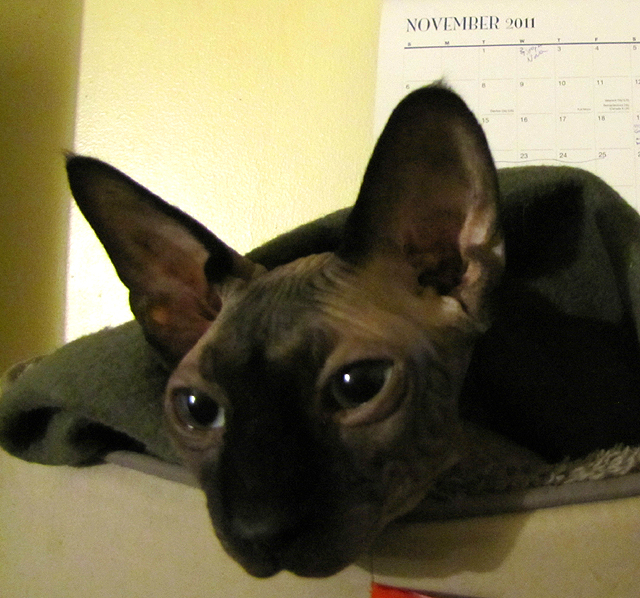 All three cats had the sneezes and got a little extra L-Lysine in their food. I thought at first he might be taken aback a bit by the new arrival, stifling his usual enthusiasm.
In addition, the weather's turned colder, driving Maz under the blankets. That said, he spent an inordinate amount of time hidden there and –gasp – even stopped eating a couple days ago. Today was to be decision time about a trip to the vet, but Maz perked up early this morning, eating and even chasing Tito and Jenny briefly.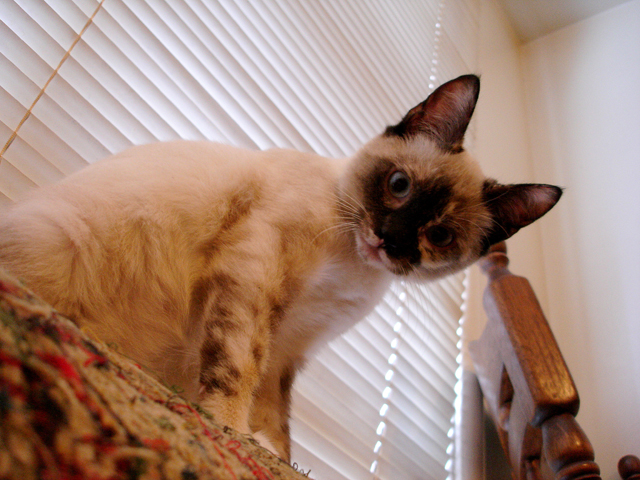 We're monitoring him closely as even this bit of progress can be deceptive, but it's still encouraging.
Tito and Jenny spend much of the day wrestling, Jenny meowing "UNCLE!" every so often, only to launch herself at Tito again once he lets go. PSYCH!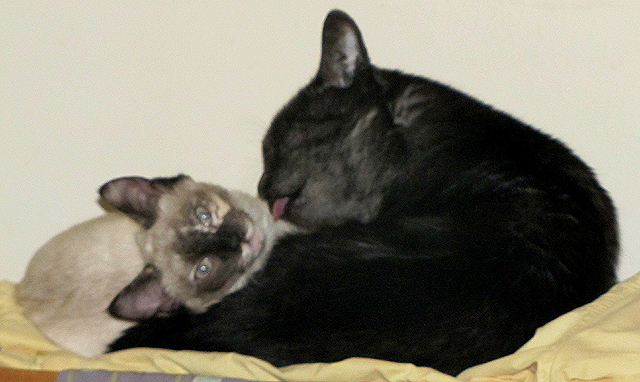 "She's the prettiest thing I've ever seen
Such a beautiful violence coming in"
– The Creatures "Prettiest Thing"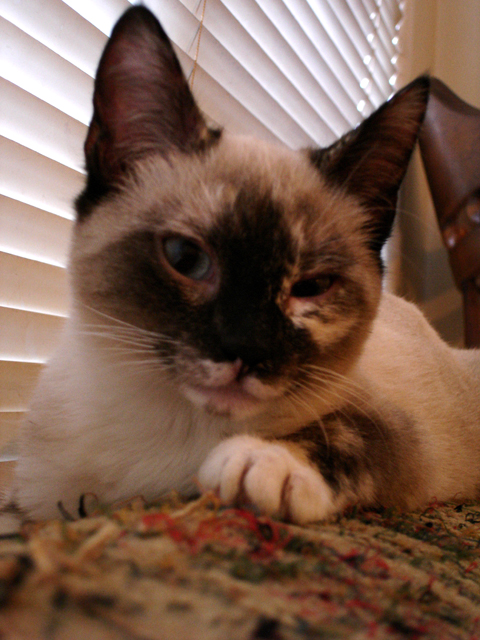 She now knows all the good sleeping spots: the chair by the kitchen window, the cat tower, the doggie bed by the computer and Tito's paisley dog cushion by our bed.
I'm also very happy to announce that the turd flicking has stopped and that she no longer runs to hide when one of us bipeds lumbers around.
Tito played a huge part in bringing her out of her shell, and she is a loving little dynamo, purring up a storm at the slightest touch, grabbing the petting hand with both paws (but no claws) to rub her chin against it and patting it with both sets of pink jellybeans.
Yes, her tiny jellybeans are the color of pink lemonade.
What lovable creatures they all are… The cute is strong in this one.