Thor,  aka Thordoggie, was born on June 13, 1994.  As you can see from his photo, he was a beautiful chocolate Lab.  According to his human LABWITCH:
My Thor — he was the largest in his litter and a puppy bully.  he was smart, he learned fast and well, but refused to get in the swimming pool.  drank out of it a lot, but wouldn't put a toe into it.  definitely not a water dog.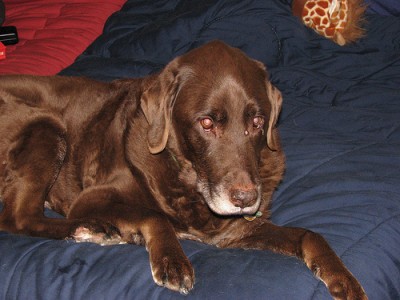 He was a loving and loyal companion.  Whenever LABWITCH was alone, he was her guardian and protector. In her words:
When I was alone for a weekend or a week when the boys and hubby were out camping, etc., Thor was my protector (he got behind me whenever possible).  He hated thunderstorms, loved cuddles.
His favorite treats were bananas and carrots.  Thor was energetic and loved his walks and continued to enjoy them until his hip dysplasia became too much for him to handle.  When that happened, he got a cart so he could continue his walks.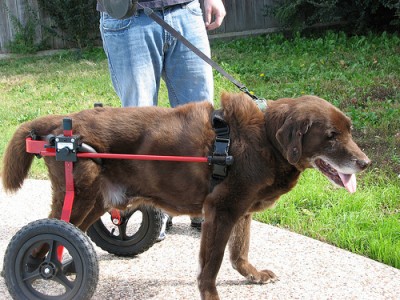 Thordoggie spent his last days in bed, but he was very much loved, cuddled, and cared for.  After spending almost 16 years as her companion, Thordoggie crossed the Rainbow Bridge on April 2, 2010
LABWITCH:
He was loved in so many ways and, he sent us the great labradors we have now.