A friend commented on our blog that it needed more dog.  Since we needed to go for a good walk and fresh air anyway, we went out looking for some canines.
Our destination was Fort Funston. It's located south of Ocean Beach in San Francisco and adjacent to Lake Merced. Fort Funston is part of the Golden Gate National Recreation Area (GGNRA) and operated under the authority of the National Park Service. I should also mention that it's FREE, and in this economy, "free" is just fine with me.
Fort Funston parking is just off of Skyline Blvd. south of John Muir Drive. If you are coming from the north, it's about a half mile south of the intersection. If you are coming from the south, you will need to go to the intersection and make a u-turn. The road for Fort Funston is signed.
Fort Funston once housed military batteries.  Now, it's host to scores of dogs and dog walkers.  It is one of the premier "off leash" places in the San Francisco Bay Area.  Also, due to the Funston Shear, as it's called, it is very popular with hang gliders. Fort Funston ranks as a Hang III (intermediate) site. There is wheelchair access to the observation deck and upper trails. There is no wheelchair access to the beach.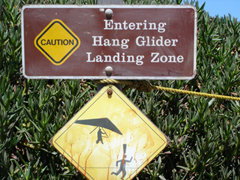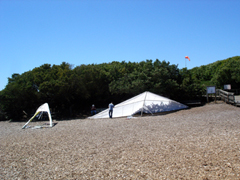 The main trail to the beach is adjacent to the hang gliding landing zone. There is a dog watering station at the trail head. Fort Funston Dog has all the information you need to go have fun with your dog.
Once at the trail head, you head south to the sand ladder which is made of logs linked together by cables. It makes it easier to descend the dunes without causing erosion.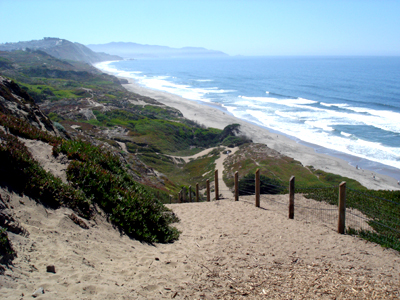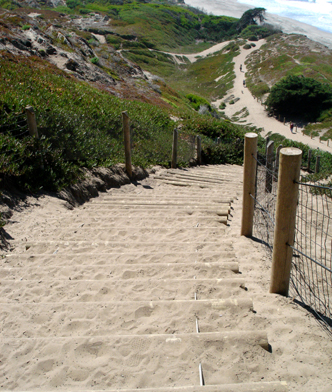 This trail is steep and full of loose sand. It's not long but taxing, especially on the way back up. Be sure to make regular stops along the trail to take in the view. Do be sure to carry drinking water with you.
………………………………………………………Once at the beach, you'll see scores of dog walkers. Some are professional dog walkers and others are just humans taking their dogs out to play in the surf.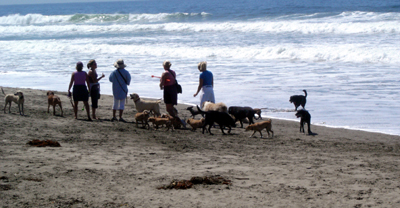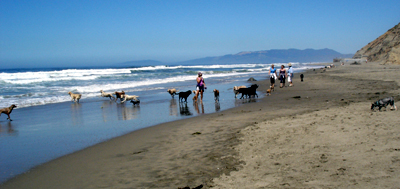 ……………………………………………..I must point out that the beach can be dangerous. I would advise against wading as rip currents are common, as are sneaker waves: those odd, larger waves that come unexpectedly. Don't turn your back on the water.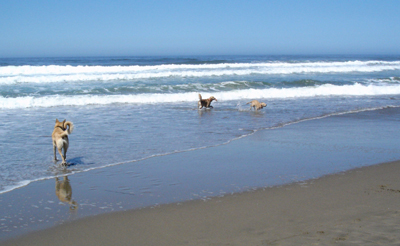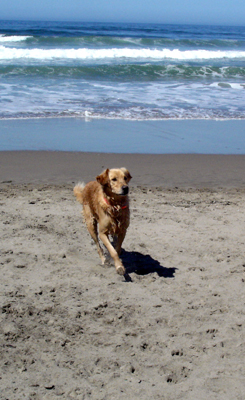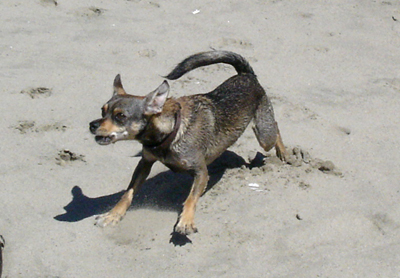 ………………………………………………………………………………You don't need to have a dog to enjoy the beach and trails at Fort Funston: the beach is beautiful and is fun for bird watching. Riders on horseback can also be seen along the shore. All in all, it's a truly lovely place to visit.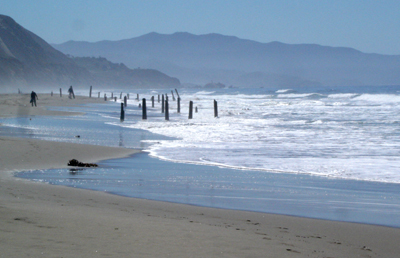 A word of caution: On August 19, a dog named Lenny was out with his human when a man stabbed him. You can find the story here.  Lenny survived the attack, thank goodness.  The attacker has been identified, but there has been no arrest yet, so be vigilant.