And that saying is "don't *#@&* with an old man, he'll just kill you". Thankfully, "Harry Brown" is in fact not so formulaic as  most vigilante stories.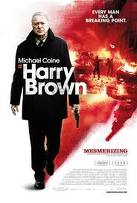 Harry (Michael Caine) is willfully ignorant of the criminal happenings on the estate where he lives.
Hi beloved wife is wasting away in the hospital, he has precious few friends and knows little of the people who live in or around the estate. Ignorance is in fact bliss. Harry's a decent man who's seen and done awful things in his time in the Royal Marines.
These things, he locked in a vault long ago when he first met the love of his life, and will not speak of them.
That's how it used to be for old soldiers. Do your duty, leave and make a life.
Continue reading ""Harry Brown": the Marines have a saying…"