The San Francisco SPCA, Crissy Field Dog Group, Fort Funston Dog Walkers, Marin Unleashed, Pacifica Dog, and SF PAWS have created a new website.
It's called Eco-Dog.
According to the site:
The purpose of Eco-Dog is to protect our natural resources and preserve multiple recreational uses, including off- and on-leash recreation, in the San Francisco Bay Area.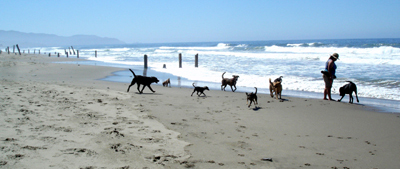 They are providing information about where the off leash dog walking areas and trails are in San Francisco, Marin and San Mateo Counties. According to the site, this access is threatened in the Golden Gate National Recreation area. There is also a lot of information to help you protect the unique ecologies here while still enjoying the beaches, parks and trails with your dog. The resource library is excellent and provides links to various dog groups and has good maps of the dog walking areas.
I would advise any dog owner to visit the site. There is even a section for donations and volunteering.
Happy trails to all..!