"The human centipede – First sequence" – (92 minutes, Netherlands 2009, rated R)
Two girls from New York (Ashley C. Williams and Ashlynn Yennie) find themselves stranded in the German countryside after getting a flat tire. Seeking refuge from a leering local and the rain, they knock on Dr. Heiter's (Dieter Laser) front door, asking to use his phone.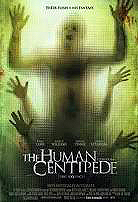 Unfortunately for them, Heiter, an expert on the surgical separation of Siamese twins and dedicated misanthrope (Heiter, get it?), has decided to "create" rather than "destroy", and plans to stitch the girls and a Japanese man end to end, as it were, mouth to nether region (get it?) forming a continuous digestive system… A Siamese triplet.
You pretty much know what "the human centipede" is about going in, you're just not sure how bad it's going to be. You also know ten minutes in that whatever's coming to the two girls, they deserve it: they would make Darwin spin in his grave. They are the first stereotypical characters of the movie, and pretty much scream from beginning to end.
The two cops who appear towards the end also are clear stereotypes, virtually identical in both look and clothing. The thing about stereotypes is that they can actually be funny, as in biting satires, but more often than not, they're just lazy.
Continue reading "Midnight Movie Madness: "the human centipede""