"Wolf Creek" – (99 minutes, Australia 2005, rated R)
"I'm going to do something now they used to do in Vietnam. It's called making a head on a stick."
This is an earlier effort from the team which brought us "Rogue" reviewed here earlier this month.
Three backpackers, two girls and a young guy, traveling the Australian Outback get stranded at Wolf Creek national park when their car refuses to start.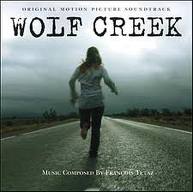 They are so far from the nearest town, their only choice is to wait until dawn before even considering starting out for it on foot.

Luckily for them, a jolly Outback denizen happens by and offers to town them to his place where he can replace the burnt out coil on their car. Mick Taylor (John Jarratt) puts them at ease with his quirky humor and promises to get them underway.
While the trip had begun beautifully, after a wild party and lazy drives through sunny landscapes, a potentially nasty encounter with gap-toothed rednecks at a gas station-slash-diner gave the trio something to cloud their enthusiasm.
But Mick is an all around good guy, so they try hard not to worry when the tow he offered ends up lasting several hours into the night.
See the trailer here:
They will then find out what Mick really is about when they reach his compound, an abandoned rock quarry that might as well be on the moon, so far it is from civilization.
This particular location, by the way, stirred controversy as it was actually the site of a murder in real life.
As it turns out, Mick Taylor is a spider catching tourists in his trap and killing them sometimes after months of absolutely gruesome torture.
Director Greg McLean and Director of Photography Will Gibson have made a beautiful looking film especially before the horror smeared grime all over the second half.
In his preparation for the role, Jarrat spent weeks without showering.
As they did again later with "rogue", they made great use of the landscapes and refined the shorthand which they put to great use in action scenes.
McLean studied painting before getting into moving images, and it certainly shows. Not much is known of Gibson, but there is no doubting he was an artist as well, and that he must be deeply missed since his death in 2007.
And I must again point out the score by Frank (Francois) Tetaz, which has an insinuating quality which really suits the film. As to John Jarratt, having seen him only in "rogue" playing basically a nice bloke, I would say his performance approaches that of Casey Affleck in "the killer inside me", though not quite: his interpretation of Mick Taylor is still a deft balance, funny and visceral.
The script by McLean does have a few holes, but I feel the qualities and daring of "Wolf Creek" more than make up for them.
This is not a midnight movie. And this isn't for everyone, just like "the killer inside me". Both films share scenes of violence against female characters, depicted in such ways that some critics walked out of the theater.
And frankly, this really isn't my cup of tea. Yet, this, and "the killer inside me" will also make you think.
"Rogue", a creature-feature also said by the filmmakers to be based on actual events, had more carnage. But man visiting horror upon man seems to "hit" us much deeper, at the species level. It's uncomfortable territory, almost sacred, but not one we're unaware of, reading the news, or noticing the odd bloodspots on the sidewalk on our way to work.
"Wolf Creek" gets 4 jellybeans.