"Evil Aliens" – (2005, UK, 93 minutes – rated R)
On an island off the coast of Wales, Cat Williams (Jennifer Evans) and her boyfriend are making sexy times in a field when they are abducted by aliens. On the aliens' ship, the boyfriend gets a most gruesome anal drilling before getting killed, while Cat is implanted with a baby alien and released.
To put it in perspective, Eric Cartman had it real easy by comparison.
Watch the trailer here:

A week later, tabloid TV reporter Michelle Fox (Emily Booth) sells her editor on the idea of doing a report on Cat's story for Weird Worlde, their "reality" show investigating yetis, aliens and other tabloid fodder.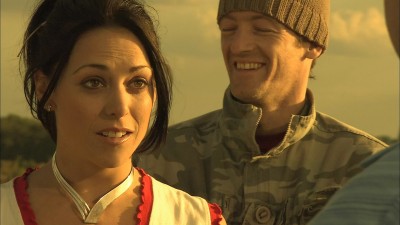 Their plan is to interview Cat on camera, have the "actors" (one's a porn actress and the other a female impersonator) re-enact her story and have geeky Gavin sound off his theories, wrap things up and hope for ratings.
The island is accessible at low tide only, when a road can be navigated by car. During this short road trip, it dawns on Gavin that maybe, just maybe, Fox and her crew do not actually take his 'research' seriously.
Writer director Jake West ("razor blade smile", "doghouse") drops off hints of varying subtlety throughout, that Gavin is a Trekkie while Jack the sound man is a Star Wars fan, and hostility between the two feeds some of the humor in "Evil Aliens".
Once they arrive at the Williams farm, they are soon "greeted" by the three Williams brothers, whacked-out rednecks speaking some backwoods Welsh patois requiring subtitles.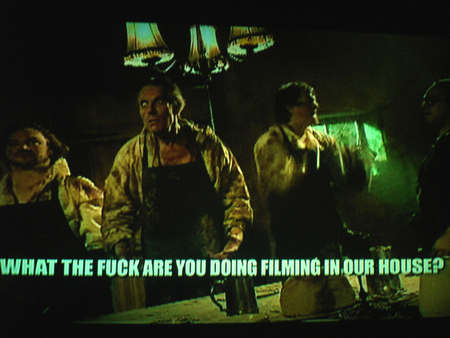 Fox and crew get some footage for their report, and it's clear that they believe Cat is lying about her story and that Gavin's a moron who dreams of losing his virginity to some alien female fantasy, which he does.
Not long thereafter, after the tide effectively traps the group on the island, encounters with the aliens will lead to increasing levels of gore and cartoonish violence as they turn out to be more Predator-like than say, E.T.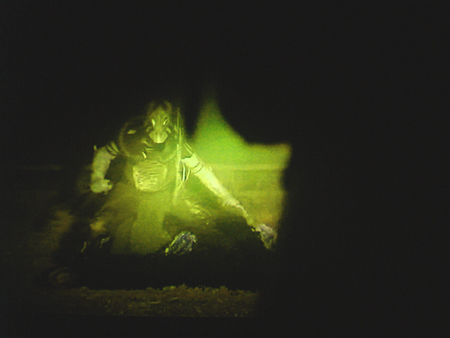 Heads and limbs ripped off, killing via impalement, hacking with machete and farming tools, death by crossbow, shotgun, blunt instruments and vehicles, the carnage rivals even "dead alive" and "Evil Dead", only two of the films referenced in "Evil Aliens".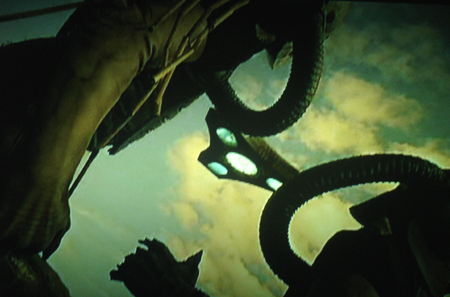 One of many references is a scene wherein Fox and Gavin take an alien ship for a "joyride" of sorts and Fox utters the much used Star Wars line: "I got a bad feeling about this". Or Jack Campbell's anti-Trek T-shirt, as seen below.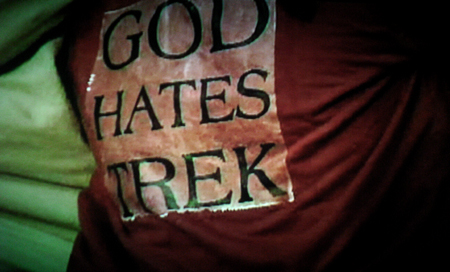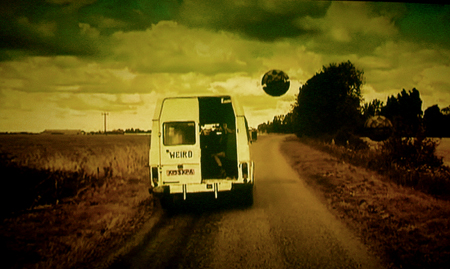 Once it hits its stride, "Evil Aliens" is an explosion, going pretty far in every possible direction. After the initial "shock" of Cat's implantation and her boyfriend's – ahem – "probing", things settle a bit while characters are introduced.
Then it's a cat and mouse game between aliens who are at times extremely lethal and at others, surprisingly easy to kill, especially when chased through a field by a combine driven by Ricky…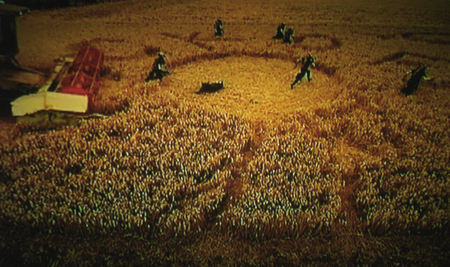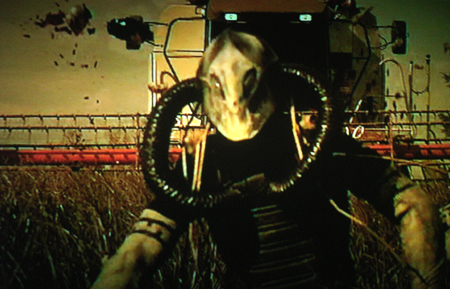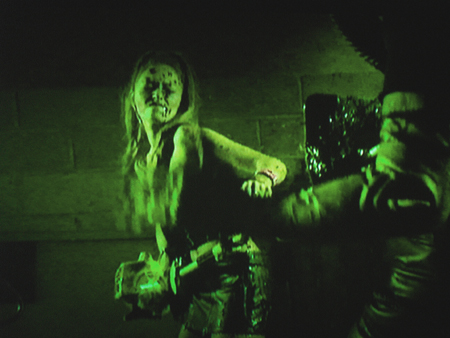 Some footage appears of video quality (unfiltered) and is a bit jarring, and the CGI is spotty in places but West's script and editing as well as the acting more than makes up for it in my view: hey, the movie cost less than 2 millions, not bad at all and I would even say a tour de force…
I do wish the DVD had a subtitle option and maybe a trivia track. All told, "Evil Aliens" gets 5 jellybeans…