Irish writer Bram Stoker was born 165 years ago today on November 8, 1847. He is best known for his gothic horror novel, Dracula. There's not a lot more to say as words would be wasted. This man gifted us with a wonderful genre of horror that inspires people to this day.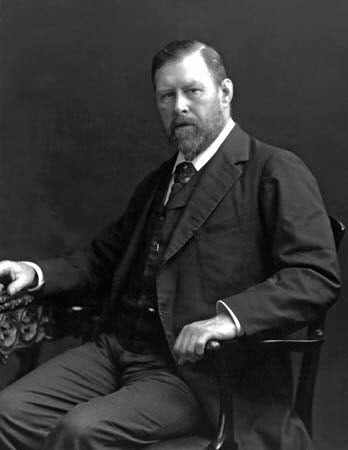 When it comes to movies, my favorite one is the great silent film, Nosferatu (1922) directed by E.W. Murnau and starring Max Schreck. Since Murnau knew he would be sued by Stoker's widow, he changed the ending and it became the first time that a vampire was killed by sunlight. That detail was NOT in Bram Stoker's book. A good later movie about Murnau and Nosferatu is Shadow of the Vampire (2000) starting John Malkovich and Willem Dafoe. That one is based on the myth that Max Schreck was a real vampire.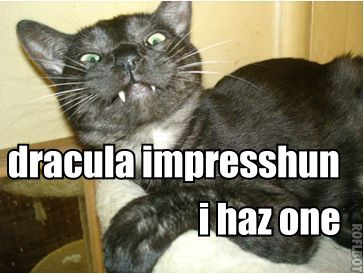 My other favorite movie is Dracula (1979) starring Frank Langella. I'm fond of this one only because Langella made for a rather attractive vampire. Ok, I'll admit it. He made me drool. He still does, come to think of it. Age hasn't hurt him one bit.
As for cats inspired by Bram Stoker, please go see Adventures of a Naked Cat. It's a blog written by Nofuratu, a hairless kitty. He has  brothers named Count von Count, Vampir, and Vladimir. He also has a wonderful Facebook page. He's a great adventurer and fashionista.