The more I read on Sphynxes, the more I get to understand how typical Mazuzu Whang is… I'm beginning to think of him as our Sphynxy-pooh.
Now a brief word before I continue, to encourage you to play some "golf" and hit some links: check out our blogroll and links on the right for cat and media stuff. We all need the traffic and your comments are always welcome.
Where was I? Yes. I came across this:
sphynxforum (requires membership)
And it was comforting to know Mazuzu's butt-in-the-face wake up call is not of his own invention. It appears these cats need a back up alarm like trucks, so any inventors out there, take note..!
I'd wondered how to tackle this subject but now I realize I'm not alone, I'll try to 'splain.
Mazuzu maneuvers in strange ways… When I reach out to pet him, instead of leaning into my hand, he will back up. Without looking of course.
His tail is always up like a whip antenna, which I gather is a sign of contentment, and yes okay, I'm grateful for that, butt…. (pun intended)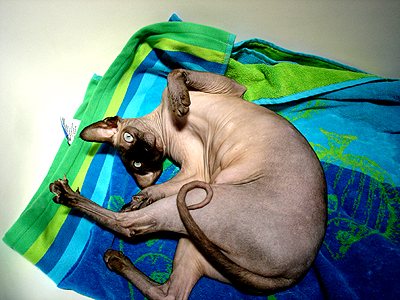 That means he, ummm, "contacts" places and things I wish he wouldn't. I've learned to reach from the side and give his flank some scritches to foil the dreaded maneuver.
In a previous post I mentioned it'd be good to stock up on baby wipes, because that butt is gonna need the occasional "once over".
As in when we give Mazuzu a bath, he straightens out his legs, toes splayed up, knowing his nether regions are going to get cleaned, and I can read his expression:
"Ye gads! NO! GOD NO! Stay away from there!"
But we're done before he knows it…
Now, before I got used to his "antics", meaning I learned to sleep with one eye open, the infamous plug incident happened.
On this particular night, I felt him stir between us. Didn't realize he was moving.
I opened an eye.
My brain tried to make sense of what was happening.
I tried to make out his face but that wasn't what I was seeing. Before I could even begin to understand, he shoved his butt up my right nostril.
I-was-breathing-in…
I compensated for my stomach beginning to heave by accelerating towards the bathroom at warp 9 point 8, grabbed the hand-washing soap, upended it and squirted up my nose, resulting in pain beyond the worst brain-freeze I ever felt.
Once it all became clear, my wife couldn't stop laughing and Mazuzu stopped licking his extended hind leg to look at me as though I was crazy.
I'd rather have locked lips with a jumping crocodile. So beware the butt-in-the-face wake up call…