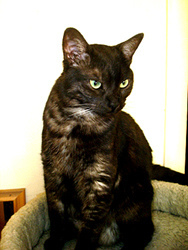 Mee!
Today, I want to talk about disabilities. I want you to understand that if your pet becomes blind, deaf, or can't walk anymore, that it doesn't have to mean euthanasia. Veterinary medicine has come a long way. If surgery is not an option for a pet that can't walk, there are carts and wheelchairs available. Don't give up before trying.
You see, humans don't give up on other humans. Please don't give up on us. Cats and dogs love their people whether or not they are  disabled. You should love them just the same. Some people say it's cruel to put a cat or dog in a wheelchair. I say pppptttthhhhhhrrrrppppp! If we aren't in pain or hungry and we have someone to love us, then we're happy.
Did you know that an incontinent dog or cat can wear a diaper if you cut a hole for their tail? If you only knew how many animals were abandoned at shelters because of that problem. It's usually a death sentence as they are the first ones euthanized. If you have a special needs dog or cat, try to explore ALL the options before making a decision. Pets don't feel sorry for themselves. They just want to be loved and taken care of.
If you are creative, you can make your own. Here are a couple of kitty wheels.
Kitty and the pvc cart. This cat did not completely lose the use of his hind legs. This cart helped him get around and behaved like therapy. He slowly regained the use of his legs. I'm not sure this cart would be good for a kitty with absolutely no use in his/her hind legs.
Scooter, was injured as a kitten and suffered a broken vertebrae and paralysis of his hind quarters. His human is veterinarian, Betsy Kinnon and she saved him after he was rushed in to the vet hospital in shock. This is his first cart. It is made of a plastic box and a part of a three-wheeled planter.
HandicappedPets.com has more ideas for DIY doggie carts. They can be adapted for cats too. You can see them here.
As for Scooter, the clients at the pet hospital donated the money to get him a brand new custom made cart. In addition, Scooter is now a therapy kitty at the local rehab hospital. He has a good life because someone didn't give up on him and gave him a chance to shine. I know my family would do the same for me. Here's Scooter in his brand new wheels.  As you can see, he's wearing a diaper to prevent accidents.
I feel that if you adopt a pet, you are promising to take care of that pet and do what is right. If you can't do the right thing and take care of them, then don't adopt. If you find yourself suddenly dealing with a pet disability and you are disabled or going through hard times, then look for help. Many times, a shelter or vet can help place an animal. It's better than just dumping them at a shelter. There's a vast amount of resources on the internet, so put it to use. HandicappedPets.com has a lot to offer. They also have free classifies.
One more site to mention is Pets with Disabilities.  This is a small, non profit rescue shelter for disabled pets. They do wonderful work. In addition to listing their own rescues that need adopting, they also permit courtesy listings for disabled dogs and courtesy listings for disabled cats. As this site is non-profit, do give to them if you can.
Mee! That's all for today. For now, go give your pet some scritchies and think about how much they mean to you.