They say that when you're young, you know what you hate and that as you get older, you know what you love and shift your focus.
I think that's true but I hate disease more and more, disease of any variety, which diminishes those you love until it kills them. I can't get used to it, and I'm not certain Kitsy's passing has sunk in even now.
Maybe it's because he was so much larger than life, that I have trouble thinking of him as truly gone.
Everything about Kitsy was superlative and he was a hell of a model, even though he never managed to hold a pose quite long enough. One thing he liked was getting petted roughly before I blew raspberries on his gut. He'd get up, fold his big flappers of ears back and leap off.
What we had for the past couple months or so was a wasted version of him.
Lately, he had appeared to make some improvement. The weight, however was located in his gut and his spine and ribs continued to show. His muscle mass continued to diminish and he had more trouble jumping in the last few days.
What confirmed what we were afraid to know and discuss, was what the other cats did. They nestled with Kitsy to keep him warm at night, Jenny checked on him constantly, and Tito would lure me to the bathroom were I'd sit on the edge of the tub and pet him on my lap.
New behavior which I took  as offers of comfort from the big cat.
As to Jenny, she accompanied Kitsy wherever he went, literally shadowing him. By then she also looked much bigger than he.
So we had him for two years, and that seems like a very short time…
The vet told us that the disease affected mostly young cats, and what a rotten thing that is.
I will miss his excesses and countless transgressions. I used to joke he was like a shark, an eating machine constantly looking for food to steal, and last night it struck me to see bacon strips on a plate in the kitchen left unmolested. Yet I can't help thinking that even though he's clearly not here he is not in fact gone.
I will miss our arguments, me calling him names and him probably demanding noms. He was a great outlet for my frustrations the fearless little bastard who never had a bad mood and would make Tito and I exchange disbelieving looks.
I can't wait to dream about him.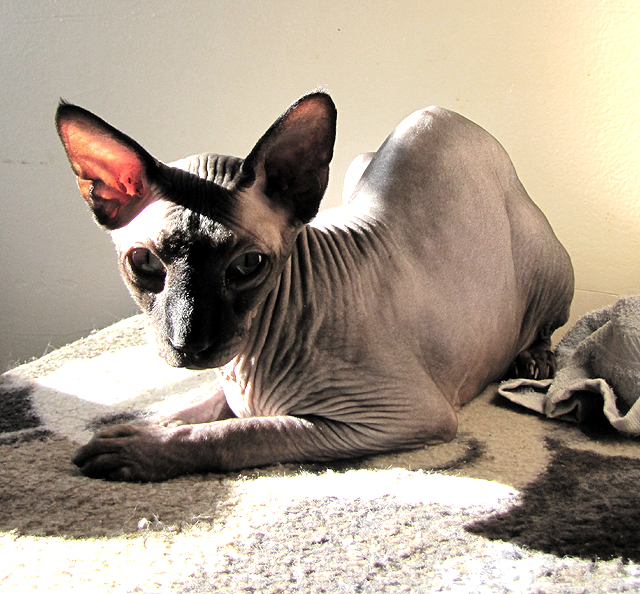 "Oh let the sun beat down upon my face, stars to fill my dream
I am a traveler of both time and space, to be where I have been
To sit with elders of the gentle race, this world has seldom seen
They talk of days for which they sit and wait and all will be revealed."
Led Zeppelin "Kashmir"