"Screamers" – (1995, USA/Canada/Japan, 108 minutes – rated R)
On a mining colony called Sirius 6B in the late 21st century, the survivors of two warring factions may have to join forces to survive a new threat: self-replicating weapons evolving of their own accord since being "fielded" by one side. "Screamers" are scavenging robots produced in underground factories for the alliance, burrowing just below the surface until they launch themselves at their prey, their razor sharp blades whirring at a painfully high pitch sounding like a scream. Scary and gory stuff.
Watch the trailer here:

They then slice their target to pieces and drag the gruesome remains below ground.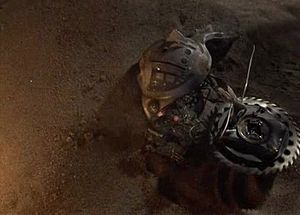 Continue reading "Midnight Movie Madness: bleak future and killer bots"