A proud, though somewhat freakish tradition.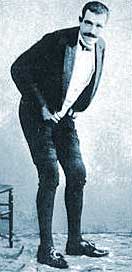 Le Pétomane was the stage name of the French flatulist (professional farter) and entertainer Joseph Pujol (June 1, 1857 – 1945). He was famous for his remarkable control of the abdominal muscles, which enabled him to fart at will. His stage name combines the French verb péter, "to fart" with the -mane, "-maniac" suffix, which translates to "fartomaniac". The profession is also referred to as "flatulist", "farteur", or "fartiste". […]
Soon after he left school he had a strange experience while swimming in the sea. He put his head under the water and held his breath, whereupon he felt an icy cold penetrating his rear. He ran ashore in fright and was amazed to see water pouring from his anus. A doctor assured him that there was nothing to worry about.
When he joined the army he told his fellow soldiers about his special ability, and repeated it for their amusement, sucking up water from a pan into his rectum and then projecting it through his anus up to several yards. He then found that he could suck in air as well. […]
Continue reading "Fair winds to gaseous giants: les petomanes"