I am typing this with the old tingling feeling down my left arm. No, it's not the tick-tock man in my chest, it's nerve damage, although the ticker could be in better shape, too.
Damage from performing data entry hunched over a less than ergonomic keyboard-desk-chair combos, like well, so many of us "working wounded" today.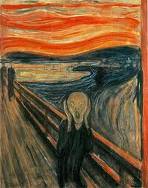 No, no, it's true, well…. Truer, that it is better to work than not. I mean, the media's not turning the spotlight on suicides/murder suicides/tent cities around the country, a word which certain politicians pronounce as though the letter 'o' was not part of it.
No, I'm happy to be working. It's just that the nature of work in America sucks and blows at the same time, something Bart Simpson thought a physical impossibility.
Continue reading "Meddling with forces of nature: working in America"