There's always been some dream-like quality in films from Tarkovsky, Lars Von Trier or Kurosawa which I found attractive beyond the visual dimension, and it has to do with the way scenes flow, details and locations reveal themselves.
I used to dream this way: I would find myself going from one somewhat familiar location to a completely different one, a construct of my imagination, which could not possibly belong next to the original place in the real world, like going from day to night by the flick of a switch.
Living here in California means zooming by unknown treasures at 75 mph.
Exploring a city like San Francisco makes you wonder whether it was conceived by Morpheus. Take Mountain Lake Park, just off Highway one at Lake street, the park borders the Southern edge of the Presidio, and I'd never have known it was there, hadn't we in fact looked it up.
The trail which starts at the Lake goes on for several blocks, seemingly forever.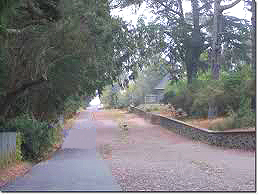 Within a large city, suddenly you find yourself in the woods, starting with a lake which once reportedly had an abandoned albino alligator as a resident.
Continue reading "Cityscapes: San Francisco in dream sequences"