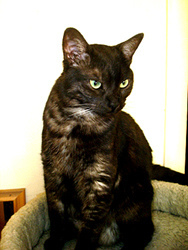 MEE! I just learned something about my fellow kitties. We really know how to maximize physics when we drink water.
From the Washington Post
While a dog curls its tongue like a ladle to collect the water and then pull up what it can, a cat curves its tongue under and slightly back, leaving the top surface of the tip of the tongue to lightly touch the liquid. The cat then raises its tongue rapidly, creating an upward mini-stream of water. The cat snaps its mouth shut and the water is captured before the countervailing force of gravity pulls it down.
An average house cat, the team found, can make four of these mini-streams per second.
Continue reading "Tito's Guide to Cats: Drinking water"