School bus driver Kyung-Chul (Min-Sik Choi) has a nice little toy affixed to the rear view mirror of his van: plastic angel wings which light up in cool blue. It's cute looking and probably helps put the young women and girls he picks up at ease.
Yellow school van and little blue wings.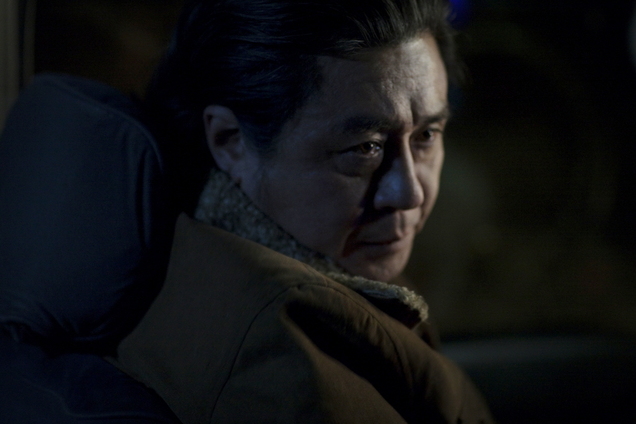 But Kyung is a serial killer who brings his victims back to his lair to carve them up after raping them. He then provides a cannibalistic associate of his with their meat to consume.
Watch the trailer here:

One snowy night in the countryside, Kyung drives up to a station wagon stopped by the side of the road with a flat tire.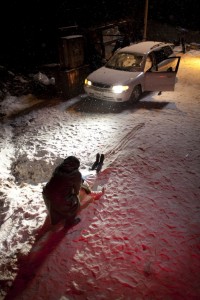 Inside, Joo-Yun (Oh San-Ha) is on the phone with her fiancé or perhaps husband, Soo-Hyun (Lee Byung-Hun). Soo-Hyun advises her to wait patiently for the tow-truck, even as Kyung walks up to her window to offer "help". After they hang up, Kyung pretends to return to his van. Puzzled as to why he is not leaving, Joo-Yun is savagely attacked and beaten over the head by Kyung who snuck back to her car. Kyung brings her back to his dilapidated greenhouse, perhaps part of an abandoned farm. There, she begs for her life, telling Kyung she is pregnant, a secret she had kept even from Soo-Hyun, perhaps hoping to surprise him.
After several days of agony for her father, sister and Soo-Hyun, Joo's severed head is found by police in a stream.
Soo-Hyun takes two weeks off from his work at NIS (the National Intelligence Service) where he works as a spook hunting the most dangerous game. He vows to find Joo's murderer and to inflict as much pain on him as Joo suffered.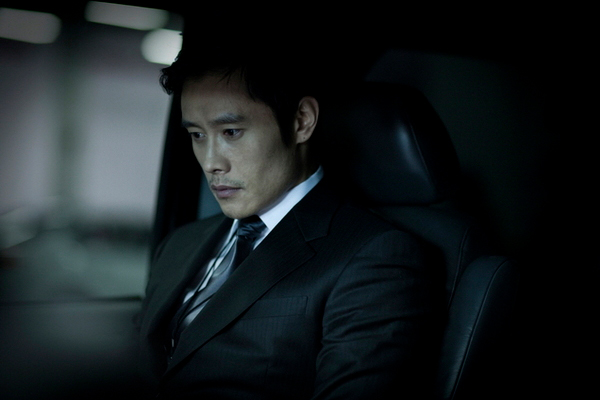 Joo's father, a retired police chief, provides him with leads generated by detectives and Soo follows each one until he establishes that Kyung is the one he is looking for.
Rather than kill him outright, Soo-Hyun gives Kyung a brutal beating and forces a GPS tracking/sound transmitter capsule down his throat as Kyung lay half conscious. He then breaks his hand at the wrist for good measure.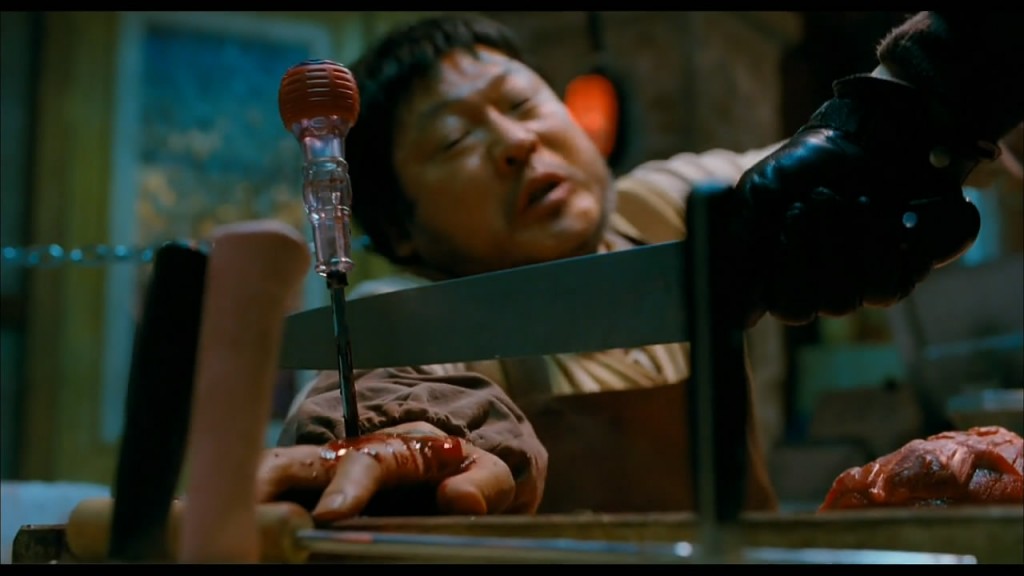 For several days, Soo-Hyun tracks Kyung and gives him another severe thrashing each time he catches Kyung attempting to rape or hurt someone. That is until Kyung seeks refuge with his cannibal-pal who suggests to him that whoever is tracking him is likely to have 'planted' a device somewhere on him.
This plants a notion in Kyung's mind as to how to turn tables on his stalker.
"I saw the devil" is not a run of the mill thriller, nor is it simply a revenge film, don't be fooled by the trailer: there are depths here not plumbed before.
Much of its brutality does occur off-screen or is otherwise framed so as not to be too graphic. This is perhaps due to censors' demands as the frequency and intensity of the carnage is unrelenting.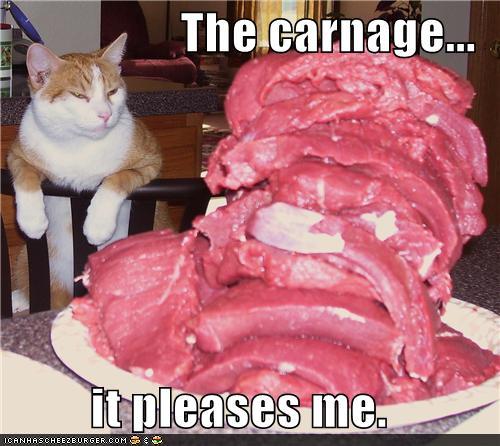 I was reminded of themes and images from "Seven", "the horseman" and particularly "the Texas chainsaw massacre", although what distinguishes "I saw the devil" for me was pointed out by Mark Olson in his L.A. Times review: "the thing that sets I Saw the Devil apart is its undercurrent of real emotion and how unrelentingly sad it can be."
And it begins from the opening shots, set to a haunting piece sounding very much like Byung Ho-Lee's composition for "Mother":
At 141 minutes, "I saw the devil" has plenty of opportunities to sag or otherwise fall apart, and the fact that it instead progresses to a devastating crescendo of guilt and bloodlust should cement director Jee-woon Kim ("the good, the bad, the weird") and his two leads as significant international talents.
Scenes between Choi and Lee were not only hard physically, they were draining psychologically, and their performances were consistent and nuanced.
"I saw the devil" marks Choi's return to film after a self-imposed five year exile from the industry . Choi was stunning in "Oldboy" and is perfectly cast here: he looks like an average Joe, except when he latches onto a victim and alternates between stony and explosive.
Byung-Hun Lee portrays his character with much restraint, even as emotions threaten to overcome and incapacitate him.
Much like "the killer inside me" and "Wolf Creek", "I saw the devil" is harsh material, but worth viewing and discussing.
"I saw the devil" gets 5 jellybeans.